Briggs Marine has ordered a new hybrid maintenance support vessel from Spanish shipyard, Freire, as part of its fleet renewal and upgrade programme.
The new 40 metre vessel, due in service in Q4 2024, will support Briggs' ongoing contracts with the UK government, offshore wind farms and commercial ports, primarily undertaking inspection, servicing and replacement of Aids to Navigation (AtoN) and heavy inshore moorings in the UK and overseas.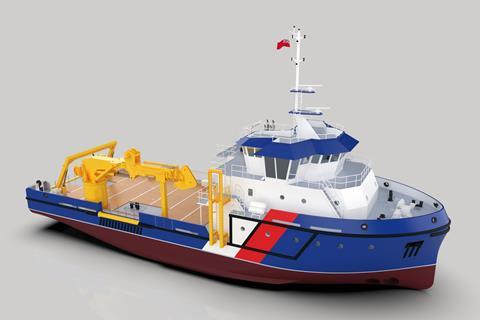 "This latest vessel order further demonstrates Briggs' commitment to maintaining its position as the UK's nearshore marine experts," said managing director, Collieson Briggs.
"The vessel will further enhance our marine project support capability for both the growing renewables sector as well as the more traditional marine construction tasks upon which Briggs has built its solid reputation," he added.
The new vessel has a hybrid diesel-electric DP2 propulsion system and comes future-proofed to embrace advances in alternative fuels as well as having drop-in battery capacity.
Amongst other features the vessel is fitted with a moonpool, a detachable 'A' frame, a 4-point mooring system and a survey project office. A demountable crew transfer vessel boarding ladder has also been incorporated to support offshore windfarm projects.
With a permanent crew of six and space for up to ten more, the vessel will also be used for ROV deployment, survey duties, diving, subsea investigation, seabed preparation tasks and other marine project activities.