A new flagship ferry for the self-governing Isle of Man has completed berthing trials in its next step towards replacing an existing vessel.
The largest ship in the fleet of British Crown dependency has also visited Belfast as it prepares to replace Ben-my-Chree, which has been running for 25 years and will enter fleet reserve status.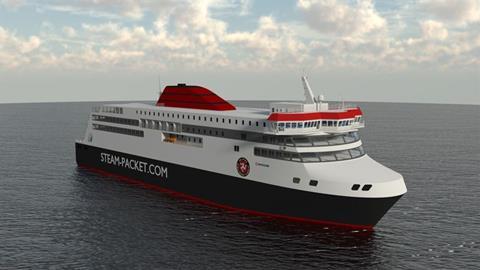 The 132m ro-pax vessel was built at the Hyundai Mipo Dockyard in South Korea, and will run on the Wärtsilä 31 engine, which the company claims is 'the world's most effiecient 4-stroke diesel engine and an engine that can also utilise artificial intelligence and machine learning in a condition-based maintenance regime'.
"It will also have the flexibility to take advantage of alternative future fuels as they become available. Wärtsilä has the experience to deliver a state-of-the-art bridge to propeller solution, along with the track-record needed for this complex newbuild project," said Jim Royston, fleet operations and project manager at the Isle Of Man Steam Packet Company, the owner.
"The hybrid solution, combining highly efficient engines and energy storage, is increasingly being seen as a practical means for meeting today's environmental and operating challenges. This solution lowers emission levels and extends the time between engine overhauls, and is an effective future-proof model for ship owners," said Wärtsilä Marine Power sales manager Karl Hinks.
Manxman will become the flagship ferry for the island's passenger transport services between the British mainland to the east and Ireland to the west. She is so named because the people of the Isle of Man are known as 'Manx', and some still speak the Manx language.
"Manxman is a huge step forward from both Ben-my-Chree and Manannan in terms of technology, and requires entirely new ways of working," said the Steam Packet Company. "The crew of Manxman and shoreside staff have been working tirelessly to develop and implement operating procedures as real-life knowledge of the vessel grows."