Outboard manufacturer OXE Marine launched two outboards for commercial marine at the recent Miami boat show.
The OXE300 outboard has been equipped with water jet propulsion, which OXE is calling a 'game changer' and was nominated for an innovations award at the show.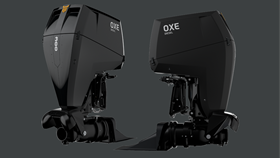 Sweden-based OXE has developed the technology with the US-based Jet-Tech, and they claim it is the world's first and most powerful outboard with water jet propulsion and axial flow.
"The engine is one of the world's most powerful outboards with water jet propulsion on and has been made possible due to OXE's proprietary power transmission system that can handle very high torques," says OXE. "Thanks to OXE Marine's unique belt transmission system, all torque generated by the diesel engine is transferred to the water jet drive itself without loss of power."
"The commercial launch of the world's first and most powerful diesel outboard with water jet propulsion and the highest efficiency of all water jet engines represents a game-changer", said Douglas Natoce, President at OXE Marine. "Others are not able to transfer such high torques to the lower part of the rig, but we do it thanks to our belt drive which, in combination with a water jet drive, can handle even higher loads."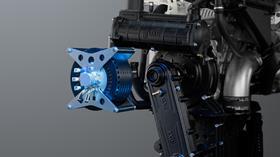 OXE claimed another world first at the boat show with its 450 concept engine, which it has equipped with a 400 volt electric motor connected to a lithium-ion battery.
The Hybrid 450 'combines the best of both worlds, the energy efficiency of diesel operation with the electric motor's steep torque curve and the possibility of a completely emission-free operation'.
OXE says the Hybrid 450 the first hybrid diesel outboard in the higher power classes.