P&O Maritime Logistics has announced plans to convert a multi-carrying ship into a zero-emission cable-laying vessel to connect offshore wind farms.
The concept that includes the vessel being powered by alternative energy, says P&O, is now complete and the vessel is scheduled to begin operating in the second half of next year.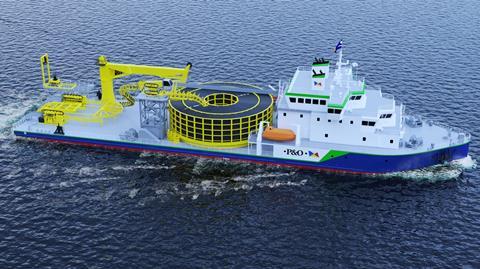 "To achieve these ambitious goals, the newly converted vessel will be equipped with a a state-of-the-art battery system, as well as a low fuel consumption layout for green methanol fuel," says P&O Maritime Logistics.
"The new CLV will give P&O Maritime Logistics' customers the ability to connect offshore structures and bring offshore energy onshore by installing export and inner array cables across vast distances. The company anticipates that one of the main uses of the vessel will be to connect offshore wind farms with the mainland, marking yet another contribution in the company's effort to enable the green energy shift."
Designing the conversion, C-Job Naval Architects said the vessel would feature a DP-2 positioning system and propulsion layout that was ready for green methanol.
"With the increasing demand in the offshore wind sector, this vessel will be able to meet the operational demands for the installation of next-generation windmill infrastructure thanks to its optimised deck layout," said Marc van der Zwaluw, project manager at C-Job. "Furthermore, in close cooperation with P&O Maritime Logistics, we were able to create a design that was best suited to their operational profile."
The newly converted vessel will accommodate to 64 seafarers and features a single basket cable carousel with an outside diameter of 24 metres, a core height of 5.5 metres, and a 30-tonne SWL AHC subsea crane.