A new UK consortium being led by hydrogen developer Tower Group aims to build two new hydrogen powered marine vessels in conjunction with the University of Exeter.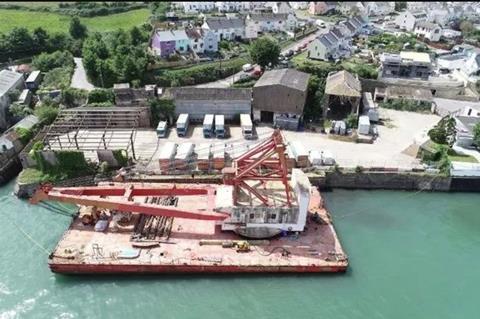 The vessels will be fuelled by hydrogen produced at a new 5 MW electrolyser facility in Northern Devon, which will ultimately powered by electricity by offshore wind from the Celtic Sea where the Crown Estate is finalising plans for what will be the largest floating offshore wind project in the world.
"The project has the potential to create an entirely sustainable and circular ecosystem where wind turbines are maintained by boats powered by hydrogen produced using renewable energy," said Prof Chris Smith, professor of mechanical engineering at the University of Exeter and director of the Centre for Future Clean Mobility.
"It will act as a leading example for how the marine and renewable industries can work together and decarbonise, benefitting each other and the country as a whole."
Hydrogen powered
The newbuild vessels, which will benefit from Zero Emissions Vessels & Infrastructure (ZEVI) funding from the UK Government, will be operated by OS-Energy and Severn Seas Shipping Co.
Among the new ships' uses will be the maintenance of those very floating wind turbines that helped power them.
The 5 MW hydrogen facility meanwhile will be operated south-west based Oort Energy, with on-site energy provided by Hydrogen Future Industries PLC's green hydrogen system. Further specialist technological input will be provided by Ecomar Propulsion.
The same area will also soon be home to the Appledore Clean Maritime Innovation Centre, which recently received UK£15.6 million of Levelling Up funding from Government.
The University of Exeter's Centre for Future Clean Mobility, which is at the forefront of the race for clean propulsion and decarbonisation, is set to be based at the centre when it opens in early 2026.