An event passenger vessel has had its propulsion units overhauled after almost 20 years in operation.
The Rhein Star's main propulsion units (two Schottel RudderPropellers) and auxiliary propulsion unit (one Schottel PumpJet) were overhauled at one of Schottel's eight workshops worldwide before installation at the Stahlbau Müller shipyard in Oberwinter, Germany.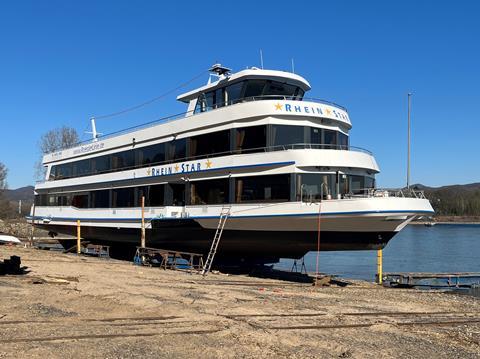 This increases the operational reliability and availability of the two overhauled SRP 200 (400 kW each) and the SPJ 22 (100 kW) to a maximum during the season.
The Rhein Star is one of four event passenger ships of Rössler Linie. The 44-metre-long and nine-metre-wide ship was put into operation in 2003 and can accommodate up to 600 people.
Bianka Rössler, general manager at Rössler Linie, said Schottel had been chosen thanks to its reputation for OEM quality.
"Schottel provided us with advice and support throughout the entire project and explained all the necessary steps to us in a comprehensible way," she said. "We worked closely together so that we could start the season on time and could ensure reliable operation of the vessel throughout the summer."