Maritime green tech start-up, ExoTechnologies, has delivered a fully recyclable, high-performance workboat to tidal turbine developers Orbital Marine Power to support its offshore operation.
The vessel, built using ExoTechnologies' DANU composite material technology, will be used to transport engineers to Orbital Marine Power's O2 off Orkney, reportedly the world's most powerful tidal turbine.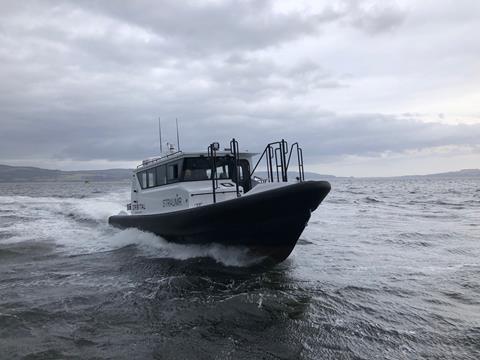 ExoTechnologies chief executive Shane Mugan said the company was proud to support Orbital Marine Power's work in the field of green energy.
"Innovation and making a positive difference through the development of a renewable marine industry is at the heart of the work of both our operations," he said.
Built at Ultimate Boats, ExoTechnologies' Glasgow boatyard, the new workboat is built from DANU, a groundbreaking composite material of superior strength capable of being reused repeatedly.
The 11 metre O-class RIB also features ExoHull technology first used for supersonic bombers which is said to enable the boat to move more quickly and efficiently with less slamming.
With room for eight crew, the workboat has a wheelhouse, shock mitigation units and an operating range of 450 miles.
Tidal power
The O2 turbine has a 74m long hull structure with twin 1MW power generating nacelles at the end of retractable leg structures.
The floating structure is held on station with a four-point mooring system where each mooring chain has the capacity to lift over 50 double decker buses.
O2 has the ability to generate enough clean electricity to meet the demand of around 2,000 UK homes and offset approximately 2,200 tonnes of CO2 per year.