The latest news emerging from Canadian naval architect Robert Allan Ltd demonstrates its truly global presence, which includes recent deliveries from shipyards in east and southeast Asia.
Robert Allan Ltd (RAL) does not build tugs itself. The Vancouver-based naval architect, established in 1928, instead designs vessels to be built under licence by shipyards to the order of and in association with the customer. Owners often have a long-standing relationship with a particular shipyard, or prefer one that is more local to their own location in the same country, with a shared language and customs, not to mention shared rules and regulations.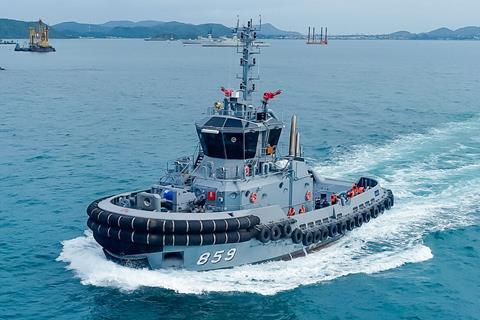 RAL will of course want a shipyard that can deliver what is in effect its own vision of the quality of the delivered product. If a product fails to deliver for the client it may be the design as well as the build itself that is considered.
Shipyards' own facilities and capabilities will be taken into account, specific design designations allocated accordingly, for example Turkey's Sanmar Shipyards are well established, high-quality builders of RAL-designed tugs. Some of them are described as 'Sanmar-exclusive' with the notation SX added to the design designation, for example the ElectRA 2800SX design electric tugs. Relationships between designer and builder are clearly important and doubtless contribute to the success of RAL-designed tugs.
Its portfolio includes craft that generally fit within the service vessel bracket, but it is its range of around 20 tug designs that dominate the catalogue. RAL's designs cater for the modern shipbuilding trend of series production, vessels adapted to suit individual requirements and where appropriate built for stock, allowing short delivery times and accompanying economy of scale.
Turkish deliveries to Asia
Modern Turkish shipyards are well known for building RAL-designed tugs, but news of two recent deliveries involving three vessels from shipyards in China and Thailand are reminders that its reach is indeed global and not restricted to Europe.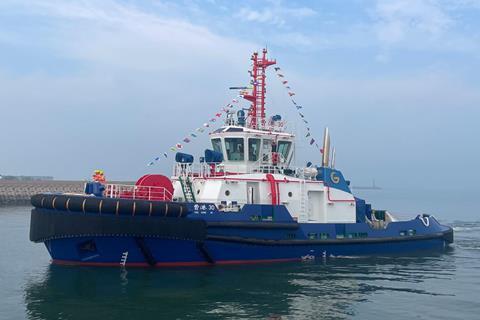 The Chinese pair are built to RAL RAmpsarts 3500 designs (RAL)
Both deliveries involve one of RAL's most popular designs, the well-proven RAmparts ASD tug, suited for shiphandling operations with a modest size skeg or with a much deeper skeg for enhanced indirect steering force capability in escort mode.
Two examples of the RAmparts 3500 marque, Cao Gang 30 and Cao Gang 31, have been delivered by Zhenjiang Shipyard (Group) Co Ltd to Caofeidian Port in the northern part of China for duties including towing, vessel assistance and fire-fighting in Bohai Bay.
The design was described as "quite challenging", with a gross tonnage not greater than 500gt and "up to the limit". Efforts were made to develop the hull form and arrangement to provide sufficient displacement and single cabins for 10 crew as per Chinese statutory requirements along with provision for the large propulsion arrangement. including the fifi1 notation system.
Main particulars of the Chinese CCS-classed pair include: LOA 34.7m (excluding fenders), beam moulded 11.1m and maximum navigational draught 4.94m. The owners chose Yanmar main machinery for each vessel in the form of two 8EY26W examples, each developing 2,390kW at 750rpm, the vessels returning performance figures of 81.5tbp and 13.1kn free running speed.
European components include Schottel SRP 460FP Z-drives with deck machinery including a hawser winch and two individual windlasses forward along with a towing winch aft provided by Karmøy Winch AS, Norway.
The second part to this story is where following successful sea trials the Royal Thai Navy has taken delivery of a third RAmparts 3200-SD tug following two earlier examples of the same class delivered in 2017 and 2019. The customer was reported to be "impressed by the superior performance" of the first pair and the new vessel named H.T.M.S Tai Chai, built by Asian Marine Service PCL of Thailand, will serve the navy's surface ships and submarine fleet. This latest addition for the Royal Thai Navy is the slightly smaller 3200 marque with a LOA of 31.5m and a beam of 12.6m including a slightly wider hull form than the first pair.
The LR-classed tug is powered by two MTU 16V4000M54 main engines, each rated 1,685kW at 1,800rpm, driving Schottel SRP 400FP Z-drives. Another MTU diesel powers the fifi pump and two MAN gensets are also included. Performance figures include 55tbp and 13kn.
Major deck machinery is supplied by Fluidmecanica of Spain and fendering includes D fenders below the waterline for working with submarines. H.T.M.S. Tai Chai has an exceptional crew capacity with accommodation provided for 20 persons.