Reports from the International Salvage Union (ISU) of activity by four of its members clearly indicate how this vital sector continues to contribute to saving property and protecting the environment.
When major ship casualties grab the mainstream media's attention, immediate information can be sketchy for reasons such as remoteness of location and commercial considerations for those involved. If activities lead for example to a separate wreck removal phase it can be several months, even years, before the story can be told in full.
Resolve Marine, Smit Salvage, Tsavliris Salvage and Multraship Towage & Salvage are four major players in the marine salvage community and they have provided an interesting insight into recent activities, much of which does not attract the mainstream media's attention but is nonetheless important in minimising losses for owners and insurers and protecting the environment.
Resolve Marine
Next to saving life, removing potential pollutants from vessels is a priority in today's environmentally conscious society, and the focus of attention for US-based Resolve Marine in three reported incidents.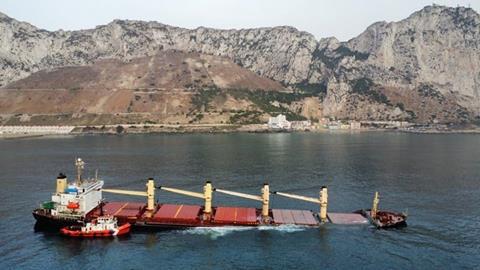 The grounding of the bulk carrier OS 35 following collision off Gibraltar in August 2022 is an ongoing story involving Koole Contractors (MJ May 2023). Resolve Marine was initially involved with tugs, salvage teams and equipment responding from its Gibraltar location. A dive survey was carried out within hours of the collision and subsequently a Lloyd's Open Form (LOF) including SCOPIC was agreed, whereafter the vessel was stabilised and all pollutants removed from it.
Later in 2022, Resolve responded when a general cargo vessel started taking on water near Abaco Island, Bahamas. The tug Resolve Commander was tasked from Freeport and an LOF (including SCOPIC) was agreed after the situation deteriorated. Resolve's 300' salvage/crane barge and additional salvage equipment was despatched from its Fort Lauderdale base, whereafter all hydrocarbons were removed from the vessel.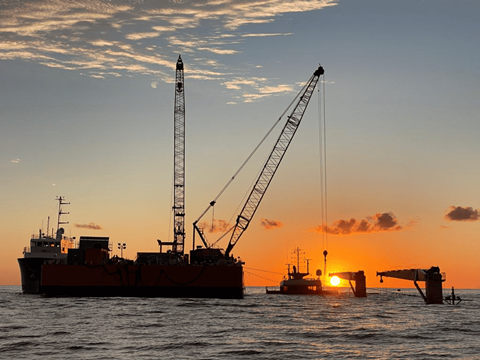 Another pollutant removal task followed for Resolve after a fishing vessel caught fire and sank off Buenaventura, Colombia. Working with its local partner, Resolve removed the hydrocarbons including "battling tough diving conditions" with strong currents and near zero visibility.
Smit Salvage
Smit Salvage has reported a busy start to 2023, with eight simultaneous global emergency response and wreck removal projects. One long-running project that demonstrates the equipment and specialist skills essential to the industry involved a 180,000dwt bulk carrier laden with coal in Northeast Australia.
During scheduled repairs while at anchor, problems led to flooding the vessel's engine room. An initial survey identified a leaking valve and Smit Salvage was contracted to seal the hole on the inside so the water could be safely transferred to a ballast tank.
Few shipyards in the region are able to accommodate vessels of this size, so a tow to Singapore was required for permanent repairs and the 200tbp oceangoing tug Boka Summit (owned by Smit's parent company Boskalis) was engaged for the near 5,000nm tow.
The tow, involving a voyage of more than 40 days, was completed successfully, Smit saying there was "great cooperation" with the authorities in an environmentally pristine area in the middle of the Great Barrier Reef. The task for Smit was completed in cooperation with personnel from parent company Boskalis and its Australian JV company Smit Lamnalco.
A similar operation for the Dutch-based salvor occurred off South Kalimantan, Indonesia, when another coal-laden bulk carrier (54,000dwt) suffered water ingress into the engine room via the sea chest. The oily water was pumped into ballast tanks but due to "various complexities and dynamics in the circumstances" an LOF was signed with Smit.
A salvage team along with craft and equipment was mobilised and the sources of the leak patched. After the oily water was offloaded to a tanker and disposed of in an environmentally friendly manner, the vessel was stabilised and redelivered to its owners.
Meanwhile, some 17,000km away, another bulk carrier (82,000dwt) laden with soy grounded in Sao Francisco do Sul, Brazil. Smit once again responded with a salvage master and team coordinating an operation to refloat the vessel using six local harbour tugs. The salvor said main challenges consisted of dealing with strong and highly unpredictable tides and currents.
Other activities for Smit during the reporting period include the final phase of large wreck removal projects in India.
Tsavliris
At the start of 2023 the 46,493dwt bulker Adastra, en-route from Riga, Latvia to Dar es Salaam, Tanzania, laden with agribulk, reported being adrift with main engine problems off Yemen. Tsavliris despatched the AHTS Hercules (67tbp) from Berbera, Somalia and after establishing a towing connection delivered the vessel safely to Duqm in Oman, where it was berthed with the assistance of port tugs.
Also at the start of the year, the bulk carrier Ability was on passage from Vancouver to East Africa, loaded with 55,000t of wheat, when it was immobilised due to fuel contamination while 350nm north east of Kuril Islands, Japan.
A Japanese tug hired by the vessel's owners was unable to reach the disabled ship due to technical problems and heavy weather, and Tsavliris was contracted to assist. It despatched the 250tbp tug Lian He Qi Rui (ex-Norwegian owned Normand Mariner) from Shanghai.
In severe weather conditions with 8m waves, Lian He Qi Rui took the bulker in tow and delivered it to Yokohama 11 days later, the tug providing stand-by services until the operation was complete.
Multraship
The winding River Scheldt presents particular challenges for vessels navigating to and from the port of Antwerp and other havens and inland waterway connections, a region providing regular work for Terneuzen-based Multraship Towage & Salvage.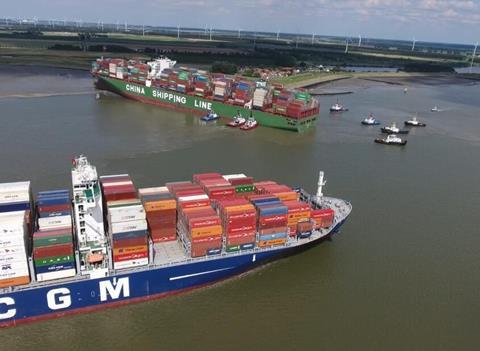 ISU reports two incidents in the river, first when the tanker Torm Signe ran aground at 12.2kn on an ebb tide after it turned hard to starboard to avoid a barge that had lost power upstream from Terneuzen.
The vessel was hard aground and required tug assistance for refloating and in a joint operation with Boluda Towage, tugs were immediately mobilised and the stranded vessel was "pushed and pulled" by nine tugs and refloated two and a half hours before low water.
In the same month another vessel grounded on a breakwater near Antwerp just after high water and the precarious circumstances meant the vessel could not be refloated on the same tide. The tug Echo and rescue vessel Multraship Rescue 2 mobilised immediately along with a salvage master and equipment including oil booms and pumps.
In close cooperation with the owners and insurers, a salvage plan was developed and the vessel was subsequently refloated and redelivered to its owners.