News that a tug from Sanmar Shipyard's own fleet is heading to Denmark reminds us that biggest is not always best and that with 'one careful owner' a nearly-new option can satisfy a specific requirement.
One option when buying a new car is to look for one that is relatively new, perhaps previously owned by the manufacturer as a company vehicle or demonstrator, benefiting from consequential care and attention and carrying the label of one careful owner.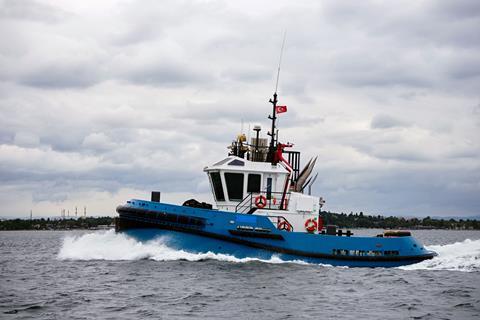 The Port of Hirtshals in Denmark needed to address the situation of increasingly large modern ferries operating from the port with its "often notoriously windy conditions", where its existing tug, built in 1979, was no longer strong enough to cope with the extra demand, a situation that would become more of an issue as the port expanded.
Port officials scoured the market for two years to find a suitable replacement, but perhaps felt a more modern 'nearly new' vessel could fit the bill so Sanmar provided the answer to their problem in the 2019-built Yeniçay class Z-drive tug Yeniçay X. At the time, the vessel was part of Sanmar's own fleet operating at Izmit Bay in Turkey, and an example of where the Turkish shipbuilder produces tugs to its own account, perhaps to be operated by them and available for quick delivery to new customers. It has been renamed Sibba and is now positioned in Hirtshals.
The vessel is a Robert Allan Ltd RAscal 1800 design, built by Sanmar and described as a compact, powerful workhorse. It is however within a modest-sized hull of just 18m LOA and 9.2m beam. Despite its compact size Sibba delivers an impressive 32tbp from twin Caterpillar main engines developing 1,940kW in total powering Veth Z-drives. The new owner notes the tug meets far stricter environmental requirements than its predecessor, resulting in far fewer CO2 emissions.
Sibba is described as having "heavy duty deck equipment" and Sanmar's general technical specification sheet on the RAscal 1800 lists an electrically driven DMT winch forward and Data Hidrolik tow hook aft. A mix of cylindrical, W section and D section heavy duty fendering is provided on the bow, stern and sides of the tug.
The RAscal 1800 has been developed from a wide range of previous successful tug designs, ensuring good seakeeping, manoeuvrability and stability in all modes of operation. It is of all-welded construction, with scantlings "significantly in excess" of minimums of any classification society.