AD Ports Group marine arm SAFEEN has bought a RAmparts 2200 harbour tug to bolster its towage service capabilities. The vessel is being built by Sanmar Shipyards.
The vessel, SEMAIH, is a RAmparts 2200 – Sanmar 'SIRAPINAR' Series ASD Harbour Tug, powered by a Caterpillar 3512C/Tier II 'C'; Rating engine, achieving a bollard pull of 50 tons ahead and 45 tons astern. It brings the SAFEEN tugboat fleet up to 20.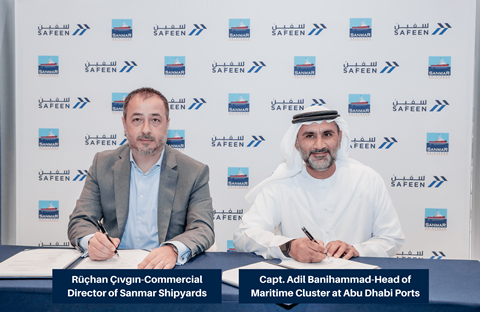 "The acquisition is an integral part of the organisation's ongoing efforts to expand its capabilities and exemplifies AD Ports Group's commitment to enhance its unique maritime logistical offering with the latest vessel design and service solutions on offer within the industry," says SAFEEN.
Turkey-based Sanmar Shipyards has already supplied similar tugs to SAFEEN – including three RAscal 1800 Class 32 tons bollard pull ASD Tugs between 2016 and 2018.
The new tug is under construction in Turkey and should be delivered in before April 2022.
"Through continued fleet expansion and investments into industry-leading service capabilities, AD Ports Group's Maritime Cluster has positioned its assets to not only support the future growth of our customers but to also drive the development of Abu Dhabi's industrial might in line with the 'Operation 300bn' national industrialisation strategy," said Captain Maktoum Al Houqani, chief corporate authority officer and acting head of Maritime Cluster, AD Ports Group.
'Operation 300bn' is a plan drawn up by the UAE's Ministry of Industry and Advanced Technology to raise the industrial sector's contribution to GDP from AED133 billion (€33.5 billion) to AED 300 billion (€75.5 billion) by 2031.
Separately, AD Ports Group has announced it has bought UAE-based topside-subsea services provider Divetech Marine Engineering to expand the group's offering in its maritime cluster.
"Divetech is a leader in diving and marine services in the UAE, with a significant pipeline of potential new business into our operations," said Houqani. "It has also delivered impressive top-line growth over the last three years."
In November 2021, AD Ports Group signed a strategic partnership agreement with Turkiye Varlik Fonu, a Turkish government health fund, 'to collaborate on major investment opportunities for port development and operations'.