Two patrol boats have been christened at Portsmouth International Port as part of the UK's initiative to inspect British waters for a number of issues, including illegal fishing.
Sister vessels Trafalgar Sentinel and Viking Sentinel are on long-term charter to the UK government for fisheries patrol duties for the Marine Management Organisation (MMO), whose purpose is 'to protect and enhance the marine environment and support economic growth by enabling sustainable marine activities and development".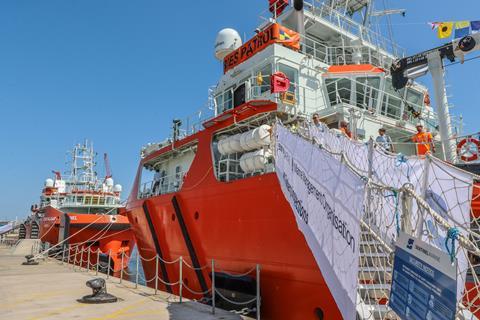 The two 60m long multi-role vessels (MRVs) will carry out collision avoidance, oil spill recovery, fast response, fire fighting, in-field transfers, search and rescue, border control and disruption of criminal activities as well as inspection of fishing licences, which has become an emotive subject since Brexit.
"We are proud of our entire Sentinel Marine fleet, and we are constantly exploring new technologies and new ways of operating," said Sentinel Marine CEO Rory Deans. "We continue to evolve our designs for this type of vessel to support the conduct of MMO fisheries inspection duties in English waters."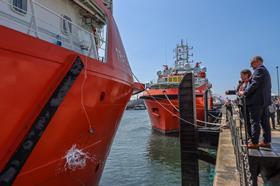 "We are an independent coastal state for the first time in generations and it's important for us to be seen to be taking control of our seas," said Peter Clark, director of Operations at the MMO. "Having a visible and really potent resource at sea is hugely important and this is a fantastic and absolutely crucial platform upon which we deliver one of our key fisheries protection services.
"MMO is all about sustainability; sustainable marine development, sustaining the marine environment and the species that live in it; and sustainability of our fish stocks around the coast. MMO staff carry out hundreds of thorough 'at sea' inspections every year. It's a relationship that works really well and allows us to inspect those vessels that would not otherwise come on our radar. It's a key part of our armoury."