Turkey's Med Marine has reported progress with orders for three Robert Allan Ltd RAstar 2800 tugs for operators in Ireland, Germany and Libya.
Following a naming ceremony held at Med Marine's Eregli Shipyard the RAstar 2800 (MED A2885) tug Celtic Treaty is now in service with Irish Mainport Holdings (Celtic Tugs). The occasion was attended by high-profile guests including Med Marine's CEO Hakan Şen and Irish Mainport Holding's CEO David Ronayne, as well as Erdemir's Harbour Master Bülent Taşdemir, chairman of Eregli Chamber of Commerce & Industry Aslan Keleş and chairman of the Chamber of Maritime Oğuz Ünlüer.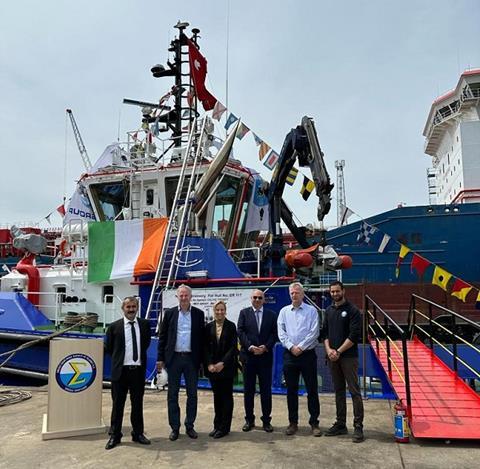 Celtic Tugs' new vessel is capable of shiphandling and coastal towing along with other general duties, the RAstar class also having escort capabilities and main specifications of Celtic Treaty include LOA 28m, beam moulded 13m and maximum draught 5.7m.
IMO Tier II compliant Caterpillar 3512C main engines provide 3,000kW, supplying power to Schottel SRP 360 thrusters with performance figures of 50 tons bollard pull and vessel speed 12.5kn. Accommodation is provided for eight persons and Celtic Treaty is now in service at Foynes on Ireland's west coast.
There are few areas of Europe where Boluda does not provide towage services, including Germany, and recently the RAstar 2800 VB Magnum joined the Spanish-based tug owner's German fleet with its homeport stated as Hamburg.
Main engines are Tier III ready, Caterpillar 3516Es developing 4,200kW and powering Kongsberg US 255S FP azimuth thrusters. The greater power of this example naturally produces high performance figures, in this case a bollard pull of 75 tons. Accommodation is provided for 10 persons.
Modern tugs built to standard designs include options allowing the owner to modify them to meet their specific requirements, the RAstar 2800 stated by Med Marine as having a "wide range of operational capacities" and as well as the usual daily shiphandling capabilities VB Magnum has been equipped to include salvage, emergency response, firefighting and pollution prevention.
The closing ceremony for the vessel was carried out at Med Marine's head office in Istanbul in the presence of general manager Jorge Rosety and Charo Coll, chartering manager at Boluda Towage.
The third item of news from Med Marine involves the launching of another RAstar 2800 design tug, this time destined to operate at Misurata Free Zone in Libya. The unnamed vessel has similar basic dimensions to Celtic Tugs' Celtic Treaty, except that as with Boluda's example it will have greater power, providing a bollard pull of 85 tons.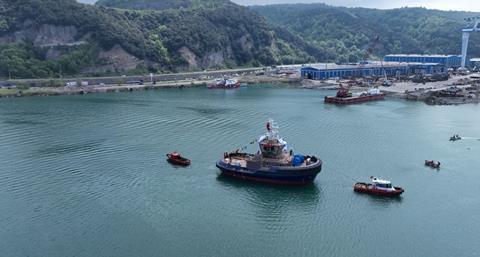 The vessel's destination is worthy of further mention. Misurata Free Zone is Libya's first free-trade zone, its main objective being to increase revenue sources and support the local economy as it strives to be "the world's gateway to Africa".
"We are delighted to announce another major milestone achieved among successful shipbuilding projects implemented by our valued partner Med Marine, who has launched its MED-A2885 tugboat to join our maritime fleet soon," said Misurata Free Zone's chairman, Eng. Muhsin Sigutri.
"It is ideally designed to meet the highest international standards and satisfy all the requirements and expectations serving the Misurata Free Zone during port operations and ensuring the navigational safety of vessels while they are entering, manoeuvring, mooring and unmooring. We appreciate all the efforts of the work teams from both parties to successfully complete this project and look forward to many more years of mutually beneficial cooperation."
Med Marine's Business Development chief Can Cicioğlu said: "We are delighted to sign this significant contract which we consider highly notable. We are proud of being able to tailor the design, construction and outfitting of our tug projects to meet an operator's exclusive needs and the MED-A2885 tugboat has been meticulously customised to perfectly align with the operational needs of Misurata Free Zone."