Biofuels produced from agricultural waste will fuel passenger ships from the Spanish port of Algeciras across the Strait of Gibraltar.
It is the first time that Spanish passenger vessels have used this kind of fuel, which is known as second-generation biofuel and is being produced by oil and gas firm Cepsa.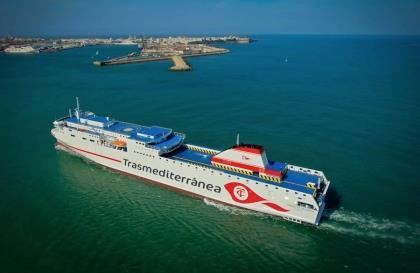 Eighty-four trips on Naviera Armas Trasmediterránea ferries will be fuelled by the biofuel in August.
The fuel is being produced at the San Roque Energy Park (Campo de Gibraltar, Cádiz), where Cepsa has transformed one of its plants to enable it to produce 2G fuels via co-processing.
Tracy Rucinski, from Cepsa's International Media Relations team, admitted there was slightly less energy density in biodiesel than conventional diesel.
"In terms of pure calorific value, biodiesel is slightly lower than fossil diesel," she said. "Depending on the production process and the type of feedstock, the difference is between 5-8%."
She said costs were also higher in producing biofuels – initially, at least.
"In general, renewable energy production can be more expensive than non-renewable energy production in the short term, but this depends on several factors, such as the type of technology used, the size of the facility and the availability of resources," she said.
"Biofuel production can be more expensive than fossil fuel production in terms of direct production costs, as they require upfront investment in technology and equipment, as well as additional costs associated with feedstocks.
"However, they provide a significant reduction in terms of emission taxes and other environmental and social benefits such as a reduced dependence on fossil fuels and job creation."
"We continue to promote sustainable mobility as one of the pillars of our strategic growth," said Samir Fernández, director of Marine Fuel Solutions at Cepsa. "With initiatives like these and the ones we are rolling out in air and rail transport, we are progressing towards our goal of becoming the leading biofuels producer in Spain and Portugal, while facilitating the decarbonization of our customers in the maritime sector."
The company says second-generation biofuels can be used in vessels with no need for engine modification.
Cepsa did not say how biofuels compare with diesel in terms of cost and range, however it does have plans to produce 2.5 million tonnes a year by 2030. It is also planning to make green hydrogen.