Star International has partnered with Tarmac Marine to provide the annual maintenance of the fire, safety, and life-saving equipment on board its fleet of suction dredgers.
The deal, which also includes the annual hire of the life rafts, covers four vessels – the MV City of Westminster, MV City of London, MV City of Chichester, and MV City of Cardiff.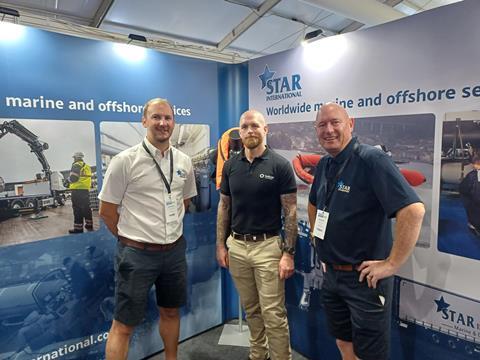 Pictured: Matthew Ball, Director, Star International; Daniel Penfold, Marine Fleet Manager, Tarmac Marine; Paul Antley, Director, Star International.
The news comes as the specialist marine and offshore service supplier announced that it will be opening a 5000sqft facility in Hillington, Glasgow to serve the whole of Scotland.
Managing director Matthew Ball said the company was delighted to work alongside Tarmac Marine. "As we continue to grow and expand our UK operations, more developments are planned before the end of the year. We will be sharing details of these in coming months," he said.
The new branch will have a dedicated firefighting equipment (FFE) service team, using the purpose-built workshop which the company says is capable of hydro-testing and refilling all suppression gases, as well as maintaining and repairing all FFE equipment including fire extinguishers, breathing apparatus, and emergency escape breathing devices.
The Glasgow team will also have the capability to service life-saving equipment such as lifejackets, immersion suits and rescue boats.
The company's head office is in Wirral, Merseyside, with branches in Southampton and Falmouth, as well as the new one about to open in Glasgow.