Tersan Shipyard has delivered a third and fourth newbuild coastal cruise ship to Havila Kystruten which will operate them across the Norwegian fjords.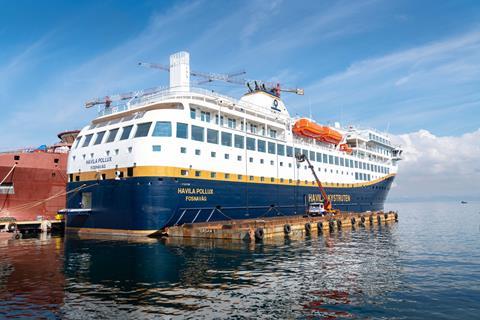 These are the third and fourth newbuild coastal cruise ships in the series which will be operating in the Norwegian fjords.
"Despite challenges for both us and Havila Kystruten during the construction process of these impressive ships, we are very happy today to have delivered four marvelous ships to Havila Kystruten," said Osman Nurettin Paksu, chairman of the board, Tersan Shipyard.
"These are the most modern and environmentally friendly ships on the Norwegian coastal route, and we are proud that these four sister ships carry the name of Tersan Shipyard along the beautiful Norwegian coast."
Overcoming obstacles
These two new vessels have a bit of back history.
Back in 2018, Havila Kystruten was awarded with the new contracts to operate four new passenger ships in the Norwegian fjords.
The first two vessels; Havila Capella and Havila Castor were contracted with Tersan Shipyard and were delivered a year ago.
These latest two vessels; Havila Polaris and Havila Pollux, were originally ordered at another shipyard in Europe, but then contracted out to Tersan after the initial shipbuild contract failed.
The design of all four vessels was a prototype specially developed to provide passengers with a modern, comfortable and environmental friendly vessel in the 'Norwegian style'.
A considerable period of the construction of the vessels had to continue during the pandemic with quarantines in place, delays in equipment deliveries and a lack of human resources due to the strict Covid regulations.
In addition to these challenges, the vessels' financing was also hit by the sanctions imposed to Havila's Russian origin finance provider resulting from the Russia-Ukraine war.
Designed by HAV Ship Design and built under supervision of DNV, the new vessels will operate on Norway's Bergen to Kirkenes route, just like their sister ships.
Powered by 86 tonne battery packs and LNG, each vessel reduces CO2 emissions by up to 35% and local emissions (NOx and SOx) by 90% compared to similar ones running on traditional fossil fuels.
Each vessel has 6100 kWh battery capacity allowing it to operate emission-free for up to four hours.