Your round-up of what's being towed around the world, by Peter Barker
Damen Services has established a service hub, co-located at the Damen Song Cam shipyard in Vietnam, which brings to 12 the Netherlands-based tug builder's number of hubs in South-East Asia.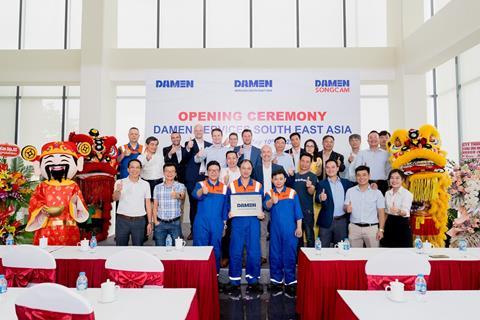 An important element with Damen's business is its extensive global service hub network, which provides support for its products long after they sail away from the shipyard. Siting this latest service hub at Song Cam shipyard, a major building location for Damen's tugs allows its Warranty and Asset Management Design department to deliver support activities in the region. Damen says the dedicated resource will deliver "faster and more comprehensive maintenance and other lifecycle support services" across the region.
Lloyd's Arbitrator Lionel Persey KC has led a group of interested parties, including the International Salvage Union, to consider ways to refresh the Fixed Cost Arbitration Procedure (FCAP).
FCAP aims to limit costs of obtaining a salvage award, particularly where the salved fund is small, where no point of law arises and the facts are uncomplicated. It is proposed to significantly increase the "value" of the case at which FCAP can be used, based on the security the contractor is seeking and allowing far more cases to be automatically considered suitable for a revised FCAP. Following consultation, a formal proposal to the Lloyd's Salvage Group is expected in November 2023.
International law firm Watson Farley & Williams has advised BCC Iccrea Bank on financing Greek tug owner Nemeca Z Maritime Company for the acquisition of the tugs Dionysios Z and Stratros Z.
The acquisition was completed through Nemeca's takeover of an existing loan between BCC Iccrea Bank and the two Greek companies, part of the Zouros Group, that owned the vessels. The tugs will expand Nemeca's fleet currently operating in the harbour towage sector in Piraeus, Thessaloniki and Kavala, as well as in salvage and pollution response activities off the Greek coast and other parts of the Mediterranean.
Malayan Towage and Salvage Corporation (MTSC) has completed the four-month long operation of extracting oil from the sunken tanker Princess Empress in Oriental Mindoro, Philippines.
The Philippine Coast Guard confirmed that all eight tanks of the vessel were empty following the viewing of an ROV live survey video of the wreck. Following completion of the oil extraction operations, MTSC confirmed that two of its tugs would continue to monitor and conduct oil spill response operations.