Maasluis-based Dutch ocean-going museum tug Elbe has emerged from drydock following its five-year special survey which found the 64-year old vessel to be in "excellent condition".
Passion among the Dutch for their long and prestigious towage and salvage heritage is well known, Elbe providing no better demonstration of how that heritage can be preserved. But nothing happens without the goodwill of volunteers and importantly professional service providers essential to keep the tug running and thanks have been passed on to Aegir Marine for propeller polishing services, MME Group for prop-shaft thickness measurements and magnaflux testing, Lloyd's Register for its wise advice and support (in record time), and Damen Maaskant Shipyard for in the volunteers' own words: "Their great support in helping us keeping the old girl in service."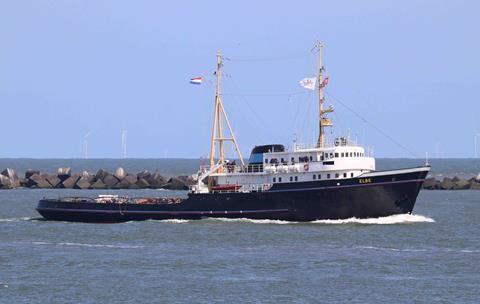 Schottel has received confirmation from external sources of the increased performance of its RudderPropeller Dynamic SRP-D thruster when used for dynamic positioning.
Schottel's range of thrusters is a popular choice for tug owners, their capabilities for applications requiring dynamic positioning making them suitable also for tugs and workboats requiring DP in their repertoire. Investigations into the effect of DP thruster response, carried out in cooperation with Netherlands-based MARIN and Polish ship designer MMC, demonstrated much improved position accuracy and enhanced operability of the vessel.
Crowley has agreed a long-term charter with Brusco Tug & Barge for the 96tbp tug Artemis, which is reported as expected to serve the ports of Los Angeles and Long Beach.
Artemis joins three other Tier IV-compliant sister vessels Athena, Apollo and Hercules, all of which meet strict US emissions standards. The powerful tugs are also equipped to provide the operators with remote performance monitoring to increase efficiency and versatility of operation.