Svitzer has ordered two Robert Allan (RAL) designed TRAnsverse Tugs with Turkey's Uzmar Shipbuilding for operation in the Danish tug owner's Australian fleet.
The pair will be the second and third of this new class of shiphandling tug described as "revolutionary" and follows the announcement by Svitzer and RAL in December 2021 to build this next-generation multipurpose tug featuring in-line thrusters and omnidirectional hull form, the first example from Sanmar Shipyards due to join Svitzer's European fleet in Q3 2023.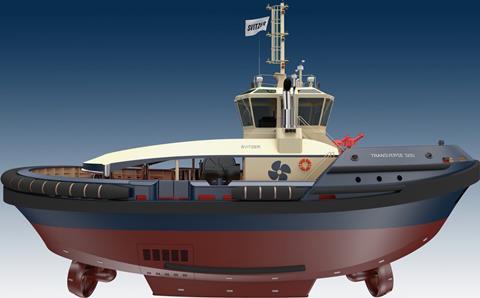 In Svitzer's own words on the TRAnsverse tug: "Its design enables it to maximise the forces necessary for braking and steerage during towage as it manoeuvres steadily in the water and consequently without compromising safety, even at full speed range. It maintains position with lower propeller input power than tug designs where the thrusters are mounted side by side, and overall brings a significant increase in stability and freedom of movement."
Svitzer says the TRAnsverse Tug will deliver an estimated 10-15% reduction in fuel use compared to other tugs on the market and includes specifications enabling biofuel operations, bringing zero tank-to-wake carbon emissions.
They will be deployed by Svitzer at Newcastle in Australia, described as a busy diverse port handling Capesize bulk carriers, container ships and cruise ships with complex tidal restrictions and channel requiring active direct and indirect escort towage.
Tugs with in-line thrusters are not new. The Rotortug with two thrusters (side by side) forward and one on the centreline aft has proven to be successful judging by numbers built, but other designs adopting in-line thrusters (and omnidirectional hull forms) emerged from around 2014.
These include Holland Shipyards' Eddy Tug, offered in two sizes, and coincidentally Svitzer recently took over ownership of the Eddy Tug 24 Telstar, previously with Iskes Towage. Giano Tug, with UK and Swiss connections, is another early design featuring in-line thrusters, but perhaps the most interesting of this novel design is another RAL-designed tug, the impressive Voith-powered RAVE escort tug represented by Multraship's Multratug 32 and 33, featuring the rotating Carrousel towing system. Perhaps for the future, RAL's catalogue will also include a variation of the RAVE design, the RAmora unmanned tug.
Each of the vessels has its own specific characteristics and the industry will be looking with interest at the level of success RAL and Svitzer experience with the TRAnsverse tug.