Two of the towing industry's major Europe-based players have joined forces to bring zero-emission tugs to Europe.
Much is written about the industry's gradual transition from purely fossil-fuelled vessels to a 'greener' model, the sector increasingly exploring the options available for a sector requiring vessels capable of high power often operating in built-up urban areas.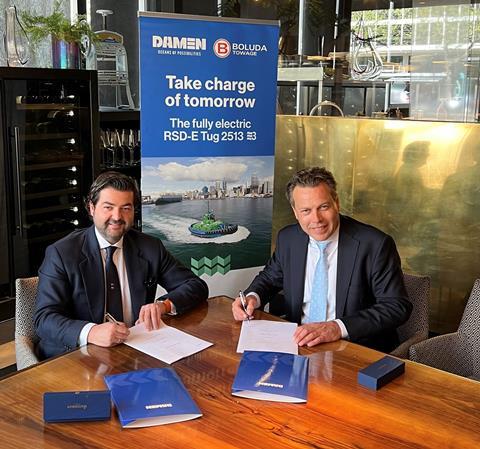 Tug owners rely on the shipyard's expertise and likewise, the shipyard needs to know the owner's operational requirements to reach a solution. This agreement sees Boluda Towage and Damen Shipyards, two of Europe's major players from both disciplines, with nearly 200 years of experience between them, working together in what they describe as a "ground-breaking move" to launch the first newbuild methanol tug in Europe. Both companies will work together to identify the potential harbour that will best match its operational profile.
Selecting the Damen RSD-E Tug 2513 (Reversed Stern Drive) marque is a natural move, the first purely electric version Sparky now in service with Ports of Auckland in New Zealand. The standard RSD 2513 version is proving to be a popular choice from Damen's 'next generation' tug range with almost 40 examples now delivered or allocated for building.
Like Damen, Boluda Towage is a family-owned company operating around 400 vessels at 100 ports in 18 countries in Europe, Africa, Asia and Latin America. It has been active recently in investing in cleaner and greener port operations and describes its multiple order of IMO Tier III tugs in 2020 as "an important milestone", adding that the "pioneering vessels" set a new standard for all its subsequent newbuilds.
Both companies will work with other maritime stakeholders to accelerate the transition to cleaner vessels, particularly those operating in or close to urban areas, saying that in the harbour and towage sector, electric and methanol-fuelled propulsion systems currently offer the best and most available route to achieve this.
Arnout Damen, CEO, Damen Shipyards Group, says: "Not only is this project in keeping with our own values, we also aim to give added momentum to the transition to sustainable harbour towage as the benefits that both electric and methanol-driven vessels deliver will be there for all to see. To aid this process we are already building RSD-E Tugs 2513 for stock and a number will be available for delivery in 2024/25."