Dutch company CoCo Yachts has received an order from Hong Kong-based Sun Ferries for two diesel-electric hybrid ferries
The Urban Sprinters 1000, built by YaGuang Technology Co. in China, will operate daily between Central Pier and Cheung Chau Pier in Hong Kong.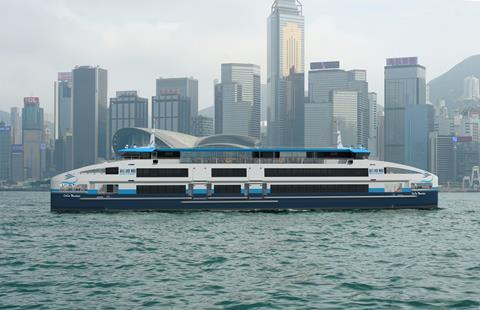 Each vessel will be fitted with four IMO tier III diesel generators, of which three are usually in service and one on standby. The vessels will be provided with four Azimuth L-type thrusters, each fitted with one PM electric motor giving a service speed of 16 knots.
The design and building of the vessel will be certified by Bureau Veritas with all flag related items, including safety and stability delegated from Hong Kong Marine Department to Bureau Veritas.
Capable of carrying 1,000 seated passengers over two decks, the doubled-ended ferries are accessed by eight entrance ramps and have dedicated baby care and pet areas.
The third deck is an open area accessible for sightseeing. The area will be partly covered by solar panels, helping to further reduce overall vessel emissions.
The ferries have two wheelhouses and will be fitted with three crew cabins, accommodating ten crew in total.
The first is expected to be delivered Q2 2024, while the second vessel will be delivered in Q1 2025.