Bernhard Schulte Offshore has contracted Ulstein Verft to design and built two commissioning service operations vessels (CSOV) of type ULSTEIN SX22, with the option for a further four.
The vessels use the TWIN X-STERN with two sterns and main propellors located fore and aft. This twin design is said to enhance manoeuvrability whilst improving fuel efficiency and reducing unwanted motion.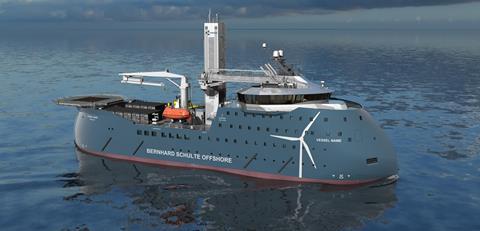 "The reliability and characteristics in design and construction work that we have experienced in previous newbuilding and conversion projects have led us to Ulstein again," said Matthias Müller, managing director at Bernhard Schulte Offshore.
The 89.6m vessels can accommodate up to 132 crew and have a large walk-to-work motion compensated gangway and lift tower for personnel and cargo. A 3D compensated crane capable of 5-tonne lifts is also on board.
The newbuilds will have hybrid battery propulsion and be methanol-ready. They complement Bernhard Schulte Offshore's current fleet of three offshore service vessels currently supporting the offshore wind market as well as the oil and gas segment.
"After the first newbuild contracts in 2015 and again in 2018, and the upgrade of the 'Windea Leibniz' which we completed this year, we are very pleased to now sign a shipbuilding contract at Ulstein Verft for vessel numbers four and five for Bernhard Schulte Offshore," said Kolbjørn Moldskred, sales manager at Ulstein Verft.
The vessels are planned for delivery in 2025.