Norwegian motion-compensated gangway maker Uptime International has signed a Memorandum of Understanding with marine services provider James Fisher to use its motion-compensated gangway on Diamond SOVs (service operation vessels).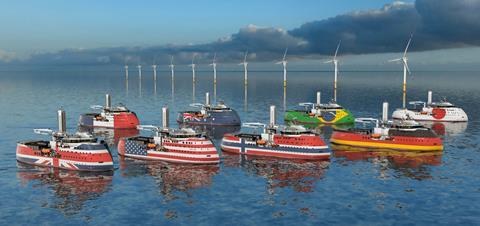 The Ulstein SX221 Diamond SOV, a collaboration between James Fisher and a consortium including DNV and shipbuilder Ulstein that was unveiled in June 2022, will exclusively use Uptime's gangways under the agreement.
"Based on current project pipelines at least 37 new SOVs are required to meet UK offshore wind demand," said group business development director with James Fisher Jim Hey. "The logistic system is a critical element of SOV design and usage. The combination of James Fisher and Uptime's expertise and capabilities will shore-up availability of supply with a future-proofed design for gangway technology upgrades."
The gangways include a Digital Ecosystem, which has autonomous operations and digital tracking of personnel and equipment as they transfer from vessel to offshore installation and back, 'ensuring maximum safety and efficiency of operation'.
James Fisher hailed its Diamond series-build concept in June 2022, saying it would bridge the supply chain gap with a scalable, modular design that could be built simultaneously in multiple shipyards.