A third LNG dredger and a second cable-layer been christened in Rotterdam for Van Oord.
Vox Alexia is a 137.5m x 27.6m trailing suction hopper dredger that runs on LNG and was built at Keppel Offshore & Marine in Singapore.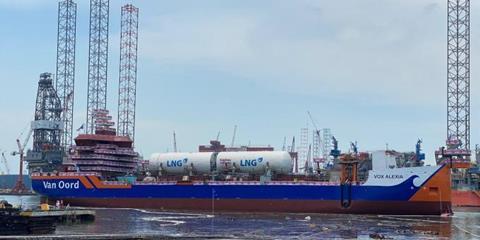 She joins two other LNG dredgers – Vox Apolonia and Vox Ariane – that were put to work in May this year.
"These three new LNG trailing suction hopper dredgers have a significantly lower carbon footprint than conventional trailing suction hopper dredgers," says Van Oord. "Nitrogen oxides and particulate emissions are also minimal with this new generation of hopper dredgers. By 2023, we will have a dredging fleet with three new LNG hopper dredgers to boost the dredging market."
Dutch Princess Alexia, who the vessel was named after, christened the vessel.
Calypso will join Van Oord's offshore wind fleet and brings the company's cable-laying vessel total to two.
Launched at the Vard Tulcea shipyard in Romania, she was finished off at Vard Brattvaag yard in Norway.
The Calypso is Van Oord's second cable-laying vessel in addition to the Nexus. It measures 131 metres in length and 28 metres across the beam and will be Dutch flagged. The new DP2 vessel will not only be fitted with a carousel on deck but also with a second, below-deck cable carousel, with a total cable-carrying capacity of 8,000 tonnes.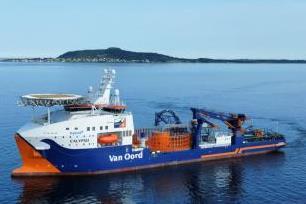 The vessel is 131m x 28m and her two cable carousels, one above and one below deck, mean cables can be laid simultaneously. She has a cable carrying capacity of 8,000 tonnes
"The Calypso will mainly be used for installing inter-array grid and export cables for offshore wind projects, as a result of which it will contribute to the energy transition," Van Oord says.
Inca Cerutti, the wife of Van Oord Supervisory Board chairman Niek Hoek, christened Calypso.