Vard is to design and build four new commissioning service operation vessels (CSOV) for Edda Wind with an option for a further 2+2.
All four, of type VARD 4 25 design, will be zero-emissions-ready with a liquid hydrogen carrier and/or methanol direct injection. With capacity for 120 crew, they will be used by technicians undertaking commissioning and maintenance work on offshore wind turbines.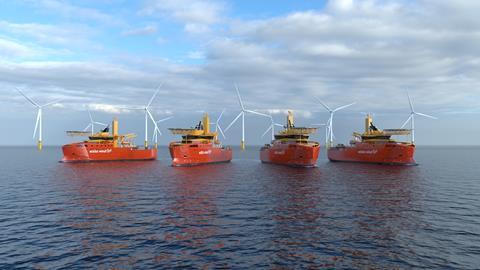 The first two are scheduled for delivery in Q1 2025. The hulls will be built by Vard in Romania, with the final outfitting, commissioning and delivery completed at one of Vard's shipyards in Norway. The second two, scheduled for delivery in Q2 2025 and Q1 2026, will be built and delivered by Vard Vung Tau in Vietnam.
All four CSOVs will be powered by Schottel propulsion packages comprising two Dynamic RudderPropellers type SRP 460 D, one Retractable RudderPropeller type SRP 380 R and two TransverseThrusters type STT 5.
"With its individual components, the package is specifically tailored to the needs of a CSOV, where precise manoeuvrability and crew comfort are essential, and the performance of the propulsion system is crucial for the time window in which to operate," explained Schottel chief executive Stefan Kaul.
Sustainability is a key part of Vard's requirements. To meet this Schottel reports it has delivered a minimised DP (dynamic positioning) footprint with better accuracy and fuels saving thanks to an integrated prime mover – the 'embedded L-Drive'.
The Dynamic RudderPropellers have an input power of 2,000 kW and a propeller diameter of 2,600mm, whilst the Retractable RudderPropeller has an input power of 1,500 kW and diameter of 2,200mm. The two TransverseThrusters have an input power of 1,400 kW and a diameter of 2,500 mm.