Greek tugs and salvage firm Vernicos Scafi has ordered a Robert Allan-designed harbour tug from Med Marine.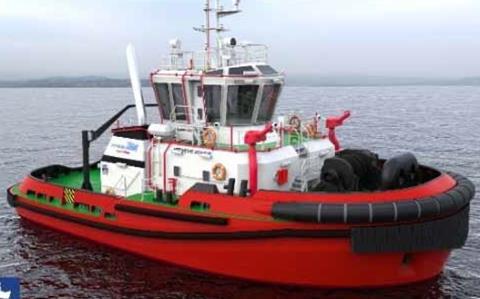 The RAmparts 2500W vessel will be built at the Eregli Shipyard in Turkey, one of the country's largest yards.
The 25.2m long, 12m wide vessel has a bollard pull of 70 tonnes and a speed of 11 knots achieved with two 2000kW MTU engines and a Kongsberg azimuth stern drive.
"As we look forward to the completion of this vesse, both Med Marine and Vernicos Scafi are confident this partnership will mark the beginning of a long-lasting and mutually beneficial relationship," saiud Med Marine sales director Melis Üçüncü.
Vernicos Scafi was formed four years ago, when Vernicos joined forces with Italian company Scafi Società di Navigazione. The newbuild tug is being touted as a further expansion for the company to meet increasing demand.
Vernicos Scafi has signalled that it will need to order more tugs in the future for projects it intends to do outside Greece. It predominantly operatres in the Piraeus area, as well as occasionally in Thessaloniki and other ports in the eastern Mediterranean, Black and Red Seas.