Viking Norsafe Life-Saving Equipment has secured orders totalling 34 vessels for the Hellenic Coastguard in Greece.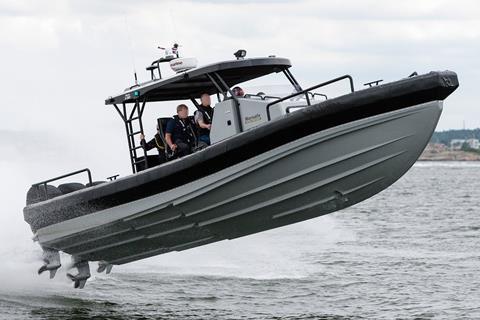 Three separate contracts have been signed to deliver 31 patrol boats and another three high-speed boats to sit onboard coastguard vessels to provide rapid patrol and rescue capability.
The 31 patrol boats will be built with Viking Norsafe's Munin S1200 deep V hull form and will be powered by two inboard diesel engines to give a top speed of 50 knots. The boats are 11.3 metres in length and can carry 12 people.
The three high-speed boats will be Metis RHIBs with a length of 7.5 metres and capacity for five people, THese have twin outboard 200hp engines and a top speed of 45 knots.
"Today, as well as designing and marketing a complete portfolio of boats from 5m in length up to 60-knot interceptors, we are building the full range, including in-house GRP manufacturing and assembly: we are in very good position to have worthwhile discussions with all types of clients," said Viking Norsafe Life-Saving Equipment general manager Georgiadis, based in Greece.
The orders, which have been agreed in three separate contracts, are part of an EU-backed Hellenic Coast Guard procurement programme that began four years ago.
"The order is of great importance both in terms of size, acknowledgment and trust in our products and it definitely ranges among the largest for the defence and professional boats product category," said Thomas Hestehave, director, Marketing Communications & E-Commerce. "It is the latest in a series of major orders and we are generally experiencing a rise in interest and demand for our solutions.
Norway-headquartered Viking Life-Saving Equipment does well with Greek sea services: it has already delivered four Munin S1200 patrol boats to the Hellenic Army Special Forces and will follow up with another three later this year.
It has also recently delivered eight ambulance boats to the Hellenic Coastguard and Metis RIBs to the Hellenic Navy.