Wärtsilä is to supply the main and auxiliary engines, fuel storage tanks, gas handling equipment and electrical systems for a new RoRo being built for Australian operator SeaRoad Shipping.
The 210 metre vessel, primarily fuelled by LNG, is under construction at the Flensburger Schiffbau-Gesellschaft (FSG) shipyard in Germany.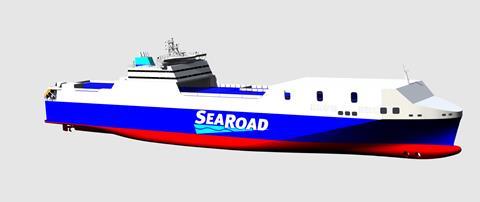 "We recognise Wärtsilä's strong capabilities in LNG-related technologies, as well as their capabilities in electrical systems, and these solutions are an excellent fit for this vessel," commented Philip Maracke, chief executive of FSG.
The vessel will be powered by two Wärtsilä 46DF dual-fuel main engines and three Wärtsilä 20DF dual-fuel auxiliary engines. The fuel gas handling system and LNG tanks are designed with the gas valve units integrated into the tank connection space, a solution said to be unique to Wärtsilä which reduces the amount of piping needed, making installation easier.
Wärtsilä will also deliver most electrical systems, including bridge consoles with integrated navigation, redundant dual-gyro compass systems, nautical sensors, external communication systems, power take-in and take-out shaft alternators with multi-drive technology, monitoring and control systems, switchboards, internal communication, and safety systems as well as lighting.
Electrical installation will commence in this year, whilst the bulk of Wärtsilä equipment is scheduled for delivery to the yard during the first half of 2023.
Expected to complete by the end of next year, the vessel will have 3,987 lane metres for various freight units and will sail on Bass Strait, between Melbourne, Victoria and Devonport on the Australian island state of Tasmania.