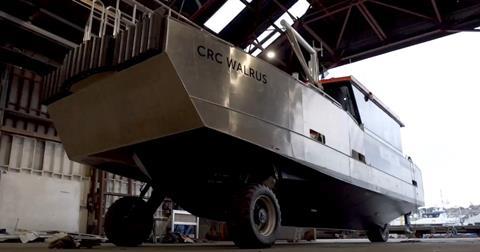 Designed by Commercial Rib Charter, which is contracted by RWE, and naval architects Chartwell Marine, the vessel was built by Diverse Marine on the Isle of Wight.
An amphibious vessel was needed because four of the Scroby Sands wind turbines are now marooned on a sandbank that has risen in recent years.
CRC Walrus is the- world's first purpose-built amphibious CTV and has been named CRC Walrus in a nod to R J Mitchell's Supermarine Walrus, the amphibious biplane manufactured at Woolston, Southampton, in the 1930s.
The 12m vessel can take two crew and eight passengers, there is 750kg deck cargo capacity and service speed is 23 knots with a sprint speed of 29. She is powered by two OXE Marine 300HP outboard engines supplied by Proteum in another first, Diverse Marine says.
"The 600HP of motive power generated by the outboards will reduce fuel consumption by 50% over conventional inboard engines, thus further supporting RWE's carbon-neutral target," says Diverse.
The vessel transitions from sea to land with three hydraulically operated over-sized wheels steered by a single nose wheel that allows her to 'dock' with the turbine ladder. This hydraulic system is powered by a generator.
"It is great to be building this vessel for Scroby Sands as we worked with the team there to build their last bespoke CTV Eastern Aura, now owned by CRC and named CRC Vulcan." said Diverse Marine managing director Ben Colman. "Diverse Marine has a passion for developing new technology that can be implemented in different market sectors and has a solid, proven track record of successfully delivering these projects in conjunction with many clients and supply chains. This 13m amphibious CTV is in good company and one we are super keen and grateful to be involved with. The team will take a very active role in configuring the vessel for its role at Scroby Sands."