Corvus Energy will supply the battery for what is being hailed as the largest vessel in the world to run on 100% battery power.
The 40MWh lithium battery is a nickel manganese cobalt type, with a weight of 6kg/kWh – which means the total weight of the battery could run to 240 tonnes.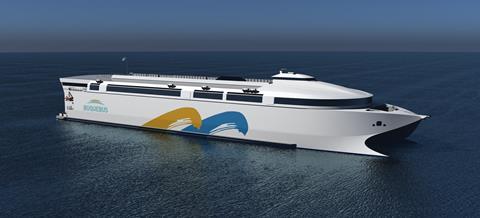 Halvard Hauso, chief commercial officer at Corvus Energy, the battery company, said the vessel would be able to cross the equivalent of the English Channel (34km at its narrowest width) and recharging would take a maximum of two hours.
He was keen to allay safety concerns.
"Marine batteries need approval from classification societies and have a much more stringent safety requirement," he said. "All our batteries have what we call 'Passive single-cell thermal runaway isolation'. This means that if a battery cell overheats and develops into a thermal runaway event it will not propagate to the neighbour cell and all the gas will flow into an exhaust pipe and out of the vessel.
"Based on this design and more than 10 years of operational knowledge, with 6-7000 vessels in operation, we are confident."
The vessel has been ordered by the ferry operator Buaquebus, which runs services in Uruguay and Argentina. It will have a passenger and crew capacity of 2,100, car capacity of 225 and more than 2,000 square metres on one level.
"The energy storage system (ESS) battery storage at over 40MWh will be four times larger than any battery installation that has been constructed and installed anywhere in the world for the marine transport environment," said Judy Benson, at Incat. "The batteries power a series of E-motors which drive the water jet propulsion system. The electrical system integration is by Wärtsilä and ESS by Corvus Energy."
"The design addresses the market's needs and requirements by utilising batteries, making it a very viable option for owners and operators looking to increase the sustainability of their fleets," said Incat chairman and founder Robert Clifford.
"The overall high efficiency of this next-generation ferry represents a game-changing advance in catamaran design," said Roger Holm, president of Wärtsilä's Marine Power business. "We are proud to have contributed our strong know-how in integrating our ship electrification solutions and propulsion equipment. The battery power pack that we are supplying will be the largest ever supplied with a unique eight waterjet propulsor configuration, which is the most efficient available on today's market for this speed range and type of application, while boasting all the benefits from Wärtsilä's axial flow waterjet technology – low weight, shallow draft, superb manoeuvrability, and low maintenance."