Specialist delivery crews have to be on hand globally to meet today's demand for tugs across the world, and Redwise is one prime example.
Redwise Maritime Services BV has delivered the electric-hybrid tug HaiSea Wamis from Sanmar's shipyard in Turkey to Vancouver in Canada, a voyage of 10,831 nautical miles lasting 56 days.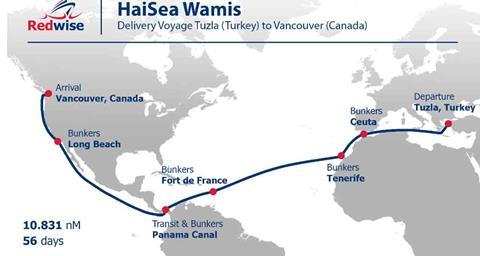 A significant multiple tug order coming to fruition in 2023 involves the three electric-hybrid shiphandling and two dual-fuel escort tugs under construction for HaiSea Marine, a partnership of the Haisla Nation and Seaspan.
One aspect of the story is that in today's global tug building market, consideration has to be given to how the vessels will be delivered as their eventual destination may well be the other side of the world from where built. This could be a problem when the owner may not have personnel available for a long international voyage away from their home base.
Five newbuilds delivered from five yards
This is where companies such as Redwise come in, and at the time of delivering HaiSea Wamis the Dutch specialist's delivery crews were engaged in simultaneously delivering five new-build tugs under their own power (described by Redwise as "not exceptional") from five different yards with a sixth vessel crewed and built by another major tug builder, not all part of the HaiSea Marine story.
In alphabetical order: Damen-built Al Mirfa was delivered from Europe to the UAE; HaiSea Wamis from Sanmar Turkey to Vancouver; Kambarage delivered to Tanzania from Cheoy Lee, China; Motagua, Eregli Gemi Insa, Turkey to Guatemala; and Svitzer Elizabeth from Uzmar, Turkey to Liverpool, UK.
Redwise describes as "icing on the cake" the Antwerp-based tug Hydrotug 1, built at Armon, Spain and manned by Redwise during extended commissioning works of the hydrogen systems.
Redwise also has long experience delivering more than 20 battery-hybrid and LNG-powered ferries worldwide over the last eight years.
Returning to the 56-day voyage of HaiSea Wamis, after departing from Tuzla, Turkey bunkering stops were made at Ceuta in North Africa, Tenerife in the Canary Islands, then across the Atlantic to Fort-de-France in Martinique, before taking bunkers and transiting the Panama Canal (the first battery-electric tug to pass through the canal) before a final fuelling stop at Long Beach, California and subsequent arrival at Vancouver.
The Robert Allan-designed ElectRA battery tug HaiSea Wamis can accomplish its normal operations solely on battery power, but for the delivery voyage a combination of battery and generator power used in hybrid mode ensured sufficient range.