Yamaha has introduced Premium and High Power engines that it says give increased acceleration, faster speeds and can be fitted to 'even more boats'.
The company has launched an XTO 450hp V8 and an XTO 400hp V8 with new cowling design, graphics, enhances user features and a superior power to weight ratio, which is says makes them an option for more vessels.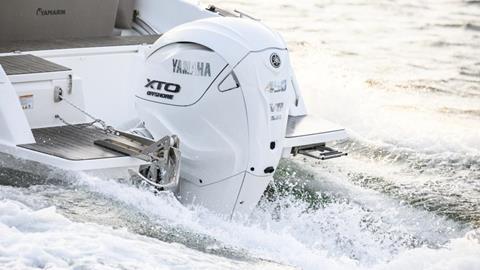 "The natural aspiration of the XTO (which stands for Xtreme Thrust Output) 450hp and 400hp V8 makes them ideal for powering larger boats, and the V8 configuration delivers enviable power across the rev range creating even more opportunities to use outboards to power ever larger and heavier vessels," says the company.
The engines are designed to be used with Yamaha's Helm Master Ex boat control system, which means the joystick control can be used anywhere on the boat.
They also include Yamaha's Total Tilt function, which "makes tilting the engine a push button exercise, while the integrated tilt limit option enables the full tilt position to be set, ensuring it's in the best position for each individual boat, preventing the possibility of cowling damage and keeping the engines in prime condition for longer".
A noise reduction silencer has also been added for quieter cruising at speed, alnog with an in-water gear lubrication change system for on-water oil changes.
"We continuously strive to satisfy the needs of a wide variety of commercial and recreational users, and Yamaha's new outboard engines represent another key step towards opening up outboard power for ever larger and heavier vessels and bringing cutting edge technology within reach for more customers," said Matt Taylerson, Yamaha's divisional manager, Marketing.