The Hamburg-based offshore service concern OPUS Marine has praised the quality of its two newly delivered Vietnamese-built crew transfer catamarans ''Presto'' and ''Vivace''.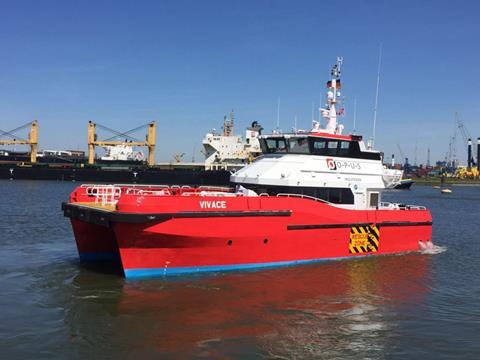 The powerful new €4 million Caterpillar-driven CTVs continue a company tradition of naming boats after musical references.
They went straight into North Sea charter service after being completed and delivered by Vietnam's Strategic Marine Shipyard to Rotterdam on board a heavy lift ship. From there they sailed themselves to the German North Sea port of Wilhelmshaven where they were launched at the facilities of local port services operator Jadedienst. Vivace is now based in that port while Presto operates further east out of Wismar.
OPUS Marine Managing Partner Bernhard Messer told Maritime Journal at the end of June "to date both newbuildings have proved their worth. The usual teething problems have been gradually overcome and their quality is good", he added.
Presto and Vivace are 27.5m long, 8.9m wide and draw maximum 1.3m and 1.2m in operational mode. They fly the German flag and are classed Type StratCat and have a midship freeboard height of 2.75m and a midship bow height at transfer point of 3.67m. They can carry up to 24 passengers and a crew of three, along with 30 tons of cargo or 35,000 litres of fuel.
The newbuildings have service speeds of 26.5knots. A maximum speed of 28.6knots is listed on the data sheet but elsewhere is put at "in excess of 30 knots". This is provided by four individually switchable Caterpillar C18 Acert engines on each boat with a total installed 2,604 kW propelling four Hamilton HM521 water jets.
No bow thrusters are listed on the new OPUS Marine boats but each is equipped with a 10 ton capacity Palfinger PK 23500 marine cranes on the fore-deck for loading and unloading as well as cargo operations. There are positions for two containers forward and one aft. If needed, a one-ton A-frame for ROV work can be mounted on the aft deck: the foundations for this have already been pre-installed.
Bernhard Messer told Maritime Journal Presto and Vivace brought the number of boats managed by OPUS Marine to eight. The others are the 26m Damen FCS 2610 Twin Axe CVT Verdi, the 27m Vietnam-built CTV cat Largo, the 19.7m CTV Deveron from Baltec Schiffswerft, the 26m survey and guard vessel Duo built at Elbewerft in the former GDR in 1958, the 24m CarboClyde built at Kockums, and the 30m MPSV MagnifiCat built in 1985 at Oskarshamns Varvet.
"We would like to grow even further", Messer said. But asked if further boats might be ordered in Vietnam he added: "It has not yet been decided whether future newbuildings will come from Vietnam or somewhere else".
By Tom Todd