Italian shipyard Cantiere Navale Vittoria is entering the international tug market with the announcement of orders for two ASD tugs for owners in Russia and Algeria.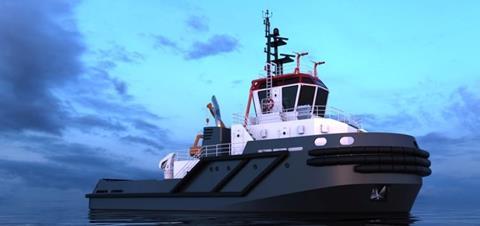 Vittoria company president Luigi Duó sums up the challenge facing yards vying to enter the tug building market eloquently when he says: 'It is an important challenge in a very competitive and selective market. We want to build quality boats that become a point of reference for international operators'.
The orders have a total value of €15m and looking at each in turn, the Russian example is for a 32m long tug to be used assisting with the scrapping of nuclear submarines decommissioned by the Russian navy in the Barents Sea.
The vessel will be required to operate in temperatures as low as -40'C and meet the country's stringent quality and security requirements. It will be checked in accordance with the regulations of the Russian Maritime Register of Shipping with the aim of gaining the highest possible class notation.
It will operate in non-Arctic waters and have a bollard pull of 60 tonnes and maximum speed 12.5kn with propulsion via two diesel engines powering azimuth thrusters with variable pitch propellers.
The contract was won in a public tender process in which 'all the big names of Italian shipbuilding' took part and is in the name of the Italian Ministry for Economic Development (MISE), part of a long-standing agreement between the Russian and Italian governments on managing radioactive waste. The contract is reported as being worth €8m and delivery is scheduled for 2018.
The second order concerns a port and coastal tug for the Skikda harbour authority in Algeria. This contract is valued at €7m and was also subject of an international tender process by the Algerian Transport Ministry which was contested by as many as 14 shipyards from: Spain, Turkey, France, India, China and the Netherlands, as well as Italy.
The Algerian tug, which will have a towing and pushing capability will have an overall length of 26m on a beam of 10m and draught 3.8m. Bollard pull will be 30 tonnes from twin diesel engines (3,600hp total) with a vessel speed of 12.5kn. It will be classed by Bureau Veritas and have accommodation for seven persons: delivery is scheduled for 2018.
Vittoria Shipyards views these ASD tug orders as 'historic' having specialised in building military boats for many decades. Last words go to Vittoria president Duó: 'We have set ourselves the aim of building boats that can be a new point of reference in a market that is as competitive as that for tugs. The quality of our products and engineering gets important recognition from very demanding, highly-professional clients.'
By Peter Barker