Voith will supply a total of five Voith Schneider propellers for two new diesel-electric pusher boats with high energy efficiency for a European steel manufacturing company.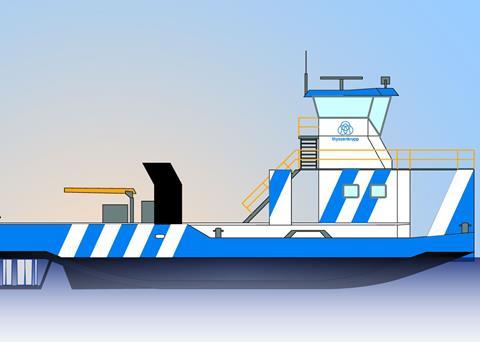 As part of a modernisation program, thyssenkrupp Steel Europe AG is replacing two of its pusher boats with modern, diesel-electric vessels. Propulsion for each boat is provided by two Voith Schneider Propellers (VSP) type 18R5 EC/150-1, each with an input power of 780kW. The two vessels will be built at Barkmeijer Shipyards B.V. in the Netherlands and delivery of the propellers is scheduled for January 2021. Voith will supply a total of four VSPs and one additional spare propeller.
"The Voith Schneider Propeller delivers impressive results thanks to its high reliability and low maintenance requirements. The outstanding efficiency of the VSP minimizes power requirements and therefore reduces fuel consumption while maximizing safety for the vessel and the environment," said Michael Rommel, head of sales & application management at Voith.
Since the 1970s, the two pusher boats Thyssen I and Thyssen II have been manoeuvring barges on the Rhine in the Duisburg port area. To do this they need a strong propulsion system, which is provided by the two VSPs at the stern of each vessel.
The unique manoeuvrability of the VSP allows barges to be steered accurately in narrow docks. The robust design also means any shocks to the vessel or contact with objects very rarely result in damage to the propulsion system.
By Rebecca Jeffrey