Volvo Penta unveiled its new 8 litre diesel engine for commercial applications for the first time at this year's SMM exhibition in Hamburg.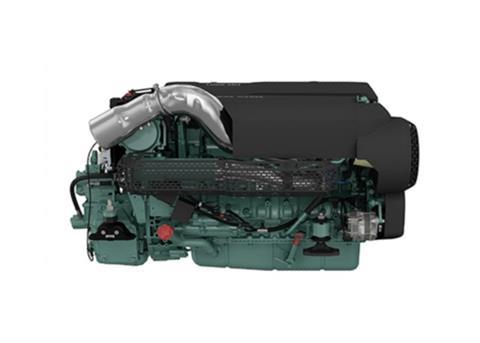 The company said that its new D8 broadens the range of engines available for the marine commercial market, providing strong performance and reliability in a compact design.
"This new engine is a compelling development for us and we're excited to be showing it to the public for the first time at SMM," said Thomas Lantz, product planning manager for Volvo Penta's Marine commercial sector.
"The D8 complements the six and 11 litre high performance engines we produce. Due to its compact design and high power-to-weight ratio, it will fit extremely well into high speed planning vessels in both newly designed boats and those which are being re-powered from Volvo Penta's famous TAMD74 engines."
The 8 litre engine is based on the latest Volvo Penta technology and is designed for applications that require low weight with high power in order to achieve peak performance. It is ideal for use in planing craft which need to accelerate quickly, with low emissions and high comfort.
Commercial uses include fast patrols, coastguard and rescue launches, police and ambulance boats, pilot boats, water-taxis and high-speed passenger ferries, fishing boats, and off-shore support vessels.
The D8 is an in-line six-cylinder engine with a cylinder capacity of 7.7 litres, twin-entry turbo and sea-water cooled heat exchanger. It has a common rail system working up to 2000bars and has a high power to weight ratio, offering both torque and fuel efficiency, and low noise and emissions.
Volvo Penta has developed three power outputs for the D8 inboard range – of 450, 510 and 550hp. They are designed to conform to the US EPA Tier 3 emissions standards, as well as IMO II and EU IWW. EPA certificates are expected in January 2017.
In addition, Volvo Penta's latest Inboard Performance System – IPS15 – has been optimised to fit comprehensively with the new D8 engine, to provide a complete package that offers high fuel efficiency, maneuverability and performance.
Also being showcased at the show were several of Volvo's latest engines including a 13 litre genset, 16 litre inboard, 6 litre with Duoprop, as well as the highest performance Volvo Penta Inboard Performance System (IPS) pod.
By Anne-Marie Causer