Designed to enable zero emission running for marine craft, Volvo Penta has unveiled a hybrid concept for its IPS propulsion system.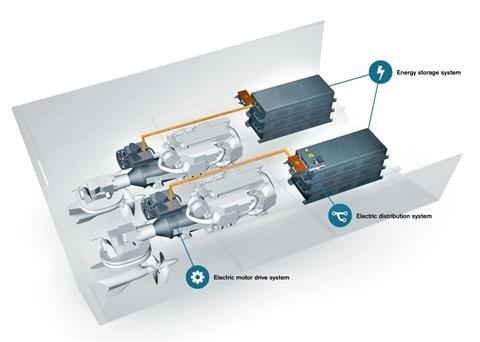 The system will allow zero emissions operation with electric-only operation for entry into environmentally sensitive zones as well as offering enhanced onboard comfort and boat handling characteristics.
The IPS hybrid system is planned initially for the 8 to 13 litre Volvo Penta engine range which is suitable for powering vessels such as ferries, pilot boats and supply boats. It uses proven hybrid technology first developed within the Volvo Group, which Volvo Penta is now adapting and certifying for marine applications, using its extensive boat propulsion experience.
"A hybrid provides a flexible solution, one that maintains the high efficiency offered by the IPS system and adds the ability to run in zero emission environments," says Niklas Thulin, Volvo Penta's Director of Electromobility. "With full torque from the electric motor available instantly, the boat will maintain the responsiveness and controllability that IPS is famous for in an electric-only mode, as well as offering the ability to run at 10 to 12 knots."
A clutch and electric motor have been added between the engine and the IPS pod. The electric motor is supported by scalable Li-ion battery packs that can be charged externally using AC or DC chargers; or recharged using the primary diesel engine. Opening the clutch allows the boat to run in electric-only mode, and with the clutch closed both diesel and electric power can be used in parallel. In terms of operation, the captain will use the familiar control interfaces of normal engine controls from the Volvo Penta range.
The modular nature of the battery packs will allow customers to tailor the design and performance of commercial boats with more battery capacity offering extended electric-only cruising, and with frequent external charging, the use of smaller diesel engines and lower fuel costs.
The system is still under development with trials taking place at the company's test site in Gothenburg and it is anticipated that this hybrid IPS will be available to commercial customers in 2021. During this development time it is anticipated that the system will evolve into more hybrid technologies and all-electric drive variants, as part of Volvo Penta's commitment to offering customers flexible technical solutions that best meet their needs.
By Dag Pike