Netherlands based dredging and marine construction contractor Van Oord''s new trailing suction hopper dredger ''Vox Amalia'' successfully started its first project last month in its home market.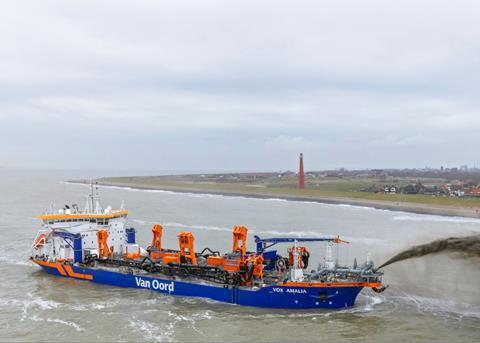 The vessel is reinforcing the coastline by placing more than 3.5 million m3 of sand in a deep trench just off the Dutch coast at Den Helder. The contract was awarded by the Rijkswaterstaat, the operational arm of the Dutch Ministry of Infrastructure and Water Management.
Vox Amalia was built at the LaNaval shipyard in Bilbao, Spain and is the first of two new midsize trailing suction hopper dredgers for Van Oord, with its twin Vox Alexia to follow. Measuring 158m LOA and with a hopper capacity of 18,000m3, the vessels are each equipped with two suction pipes with submerged, electrically driven dredge pumps and six bottom doors. They are suitable for land reclamation works, building or expanding port infrastructure and coastal reinforcement works such as those at Den Helder.
Vox Amalia was christened by Her Majesty Queen Maxima at the end of 2018 during celebrations of Van Oord's 150th anniversary. Systems installation took place between April and October last year ahead of recently completed final trials.
The newbuilds are part of Van Oord's new generation of trailing suction hopper dredgers with a focus on energy efficiency for the smallest possible carbon footprint. An energy efficiency campaign started by the company in 2010 aims to achieve an energy efficiency improvement of 7% this year by equipping vessels with monitoring systems, additional sensors and several kinds of overviews such s those related to electricity use and power versus speed curves.
By Larz Bourne