The new, reshaped and redesigned Voyager 2 searchlight is the result of far more than just a whim.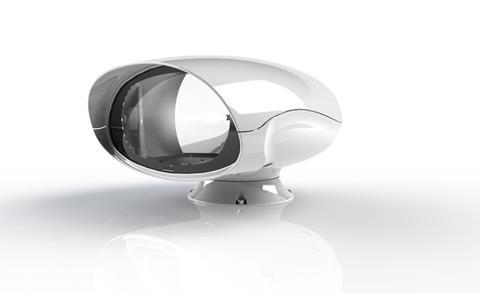 While Voyager 1 was a popular and respected product, "there has been a call for a more modern, low profile design which would blend in with streamlined vessels and fast craft" explained Malcolm Dobson of Francis Searchlights.

The company took it seriously and got stuck in to ensure it was actually what the market wanted – by asking around 30 of its key customers. "We nailed it down to six designs, then emailed them out on a survey," he explained, and added that the best features of the top two finalists were merged. The resulting sleek shape is cast out of high quality marine grade aluminum "as you couldn't form this complicated outer shape from cutting it out of flat plate" Mr Dobson pointed out, and it also makes for a contemporary, solid, purpose-shaped body.

Voyager 2 is also slightly larger, giving it more light output - and the functionality has been upgraded too: the searchlight now comes with variable speed movement using a new potentiometer joystick; this and the parabolic glass reflector, toughened front glass, remote focus and heater all come as standard. As a nicety, the wires can now be routed down through the base for mounting on a roof, or simply attached through the rear of the base through cable glands.

The low profile control panel uses membrane switch-gear technology with RS485 connections that's able to integrate with other equipment. Plus, there's an auto home position and – usefully - the membrane LED backlight is dimmable.

The Voyager 2 is available in Halogen, Xenon and Em Arc lamp options – and despite the extensive remodelling, all come with a pricetag that matches the earlier model. At the 'cost effective' end the halogen lamp sources "offer good, reliable illumination characteristics that meets most customer requirements" said Mr Dobson.

Looking into the details, the VH500 250W A6093 halogen light has a range of around 1.7km, with a bulb life of 300 hours and a 2.8m Peak Beam Candle Power (PBCP) measurement.

However, both Xenon and Em Arc lamp sources are the highest performing searchlights in the industry and offer increased light output and range. So, the output from the 100W Xenon VX500 gives 4.3m PBCP and a range of over 2km, with 3,000 hours of life. Further up again is the 300W version, which gives 15.4m PBCP and a range of nearly 4km.

Then, the top of the range Em Arc 350W VM500 gives 23.1m PCBP, 4.8km range and 2,000 hours of life.

Lastly, the Voyager 2 has an IP66 rating. Back to the 'blending in' – it comes in a brilliant white, high gloss paint finish as standard but there's the option of finishing Voyager 2 it in any colour required by the customer.
By Stevie Knight