Netherlands-headquartered naval architects' studio, Vripack has announced its first patent for one of its hull designs; the Slide Hull.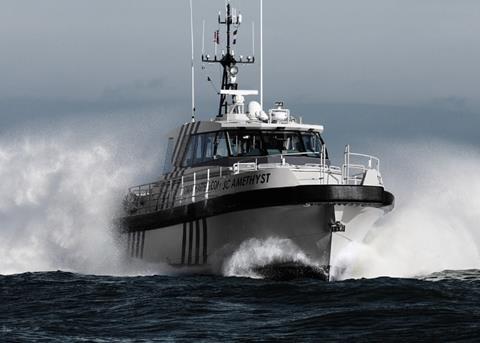 It is the result of a close and long term cooperation with returning customer and experienced captain, Jaap de Bruijn. Driven by his passion for performance and comfort he tirelessly worked on the optimisation of the hull of his ship. Literally cutting the shell and re-shaping her, over and over again for nearly a decade. By pure trial and error he made off-book discoveries and shared them with Vripack's naval architects. Peter Bouma, Naval Architect at Vripack remembers well: "Basically what he told us couldn't work. And we actually at first didn't believe him at all. No formulas, algorithms or white papers supported anything what he claimed."
Captain Jaap however is a strong minded as a Dutch captain can be and his off-book discoveries and close cooperation with Vripack eventually formed the basis for their radical Slide Hull. "I could see the twinkle in their eyes when I persuaded them with my simple philosophy that books and formulas only tell you what you know and that I was telling them something we all didn't knew. I just knew that when I was in a gale force with my ship taking out seasoned pilots, everyone was amazed by the soft ride of my boat regardless that we were doing 25 knots in 2.5 metre significant wave heights. They all wanted to go out to sea with my boat."
After hundreds of hours of research, sea trials and empirical comfort studies Vripack says it has captured the essence of the Slide Hull and improved it even further with some 15% efficiency improvement at fast displacement speeds. "Together with captain Jaap and his friend Ruud Lievaart we went on and designed the SC Amethyst. She is the first vessel equipped with our Slide Hull."
"The comfort of this hull is described by her sailors like the boat is riding on cushions. The damping in waves is beyond unique and thus prevents sea sickness. Next to that indeed the fuel consumption of our Slide Hull outperforms any other vessel that I have ever seen." continued Peter Bouma, "The SC Amethyst uses just 180 litres per hour at a cruising speed of 21 knots which is really low for a 45-ton-ship. The lines are placed such, that when the vessel picks up speed the water flows in a way that resembles how you go down a slide, hence the name. Thanks to the Slide Hull we outperform all other competitors in this field", Peter Bouma added proudly.
Vripack reports that its new hull is specifically designed for fast displacement hull speeds particularly for vessels with a large variation in loads. Currently two more vessels are under construction with Slide Hulls.
By Jake Frith