Incat Tasmania Pty Shipyard in Hobart, Australia has specified Wärtsilä waterjets and controls for a new fast ferry, the ''KatExpress 3'', being built for Danish operator Mols-Linien.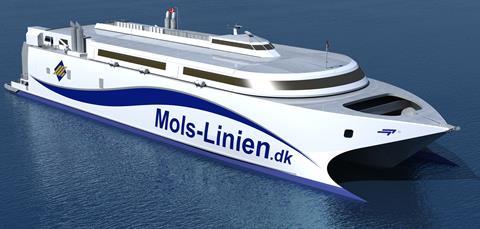 The yard has previously specified Wärtsilä waterjets for a number of fast ferry projects previously. This latest order includes four Wärtsilä LJX 1500 SRI waterjets and a Wärtsilä Lipstronic control system. The equipment is scheduled for delivery to the yard in September 2016.
Hans Laheij, sales director, Wärtsilä Marine Solutions, said: "The strong relationship between Wärtsilä and the Incat yard continues and this latest order confirms the good cooperation that the two companies enjoy. It also underlines Wärtsilä's commitment to the Australian market. We are pleased to once again be supplying Wärtsilä waterjets, which provide reliable and efficient propulsion for fast ferry applications."
"Incat, and our client Mols Linien, have continued to be satisfied with the performance of the Wärtsilä waterjets on KatExpress 1 and KatExpress 2 so it was a logical decision to select the Wärtsilä LJX 1500 SRI jets for KatExpress 3," added Robert Clifford, Incat chairman.
The KatExpress 3 is a 109m long catamaran capable of carrying around 1000 passengers and with capacity for 411 cars or a mix of trucks, vans and cars. The vessel has a deadweight of 1000 tonnes. It is expected to be delivered to the owners in March 2017.
The newbuild's near-sisterships KatExpress 1 and KatExpress 2 are both currently in service for Mols-Linien and were also built by Incat.
By Anne-Marie Causer