Technology group Wärtsilä has secured the first order for a tug featuring its recently introduced HY hybrid power module from Italian tug owner Rimorchiatori Riuniti.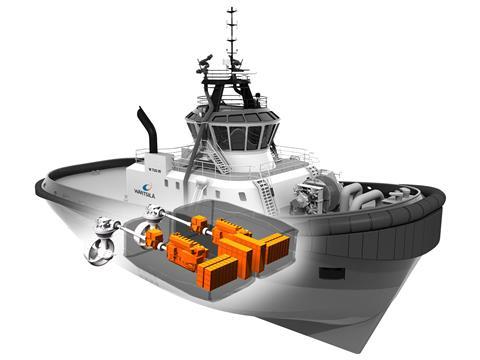 The order was signed at Norshipping in Oslo for an 80tbp harbour tug scheduled to enter service at the start of 2019. No detail of design or builder was announced but the interesting aspect is the latest example of the development of green or alternative-fuelled tugs.
A number of drivers are behind the increasing interest in alternative-fuelled tugs, main areas of development involving hybrid and LNG-fuelled systems. All aspects of shiphandling tug design are under pressure lately with increasing operational efficiencies and reducing emissions important considerations and at the same time cramming more horsepower in ever smaller hulls while satisfying stability rules.
Employing new technologies comes at a cost of course and progress has been influenced by factors including financial and variations in fuel oil prices easing running costs for conventionally-fuelled operations. Momentum is growing however with hybrid solutions from big-time technology companies such as Wärtsilä and BAE Systems just two examples now signalling perhaps an air of inevitability that alternative-fuelled tugs will become increasingly common sights at ports worldwide.
Turning to the Wärtsilä HY system itself, the company claims it is 'the first integrated hybrid power module in the marine industry' and brings together its experience in both engines, and electrical and automation systems which it states turns a complex system into an innovative single product. The module is designed with flexibility in mind allowing it to be tailored for individual market segments and can be optimised for specific operating profiles via a 'new generation energy management system'.
As with many flexible marine power systems Wärtsilä HY is offered in a variety of customisable forms. The standard mechanically driven configuration includes: main engine with clutch; PTO/PTI on the gearbox (or in-line shaft generator/motor); energy storage system; DC link and power drives and finally the energy management system. The standard electrically driven configuration includes: generating set; energy storage system; DC link and power drives and energy management system.
Wärtsilä points out that conventional performance control inside vessels' engine rooms is limited to each individual component. Logic embedded in its HY system is based on response characteristics of its own equipment with subsequent optimising of the flow of energy within the module. A guarantee of best possible behaviour in every operation is claimed, control and performance elevated to a much higher level.
The hybrid power module is custom-designed for different segments determined by the specific operational profile of the tug. The engine management system is at the heart of the module and algorithms embedded within enable a variety of smart features. Smokeless operation from synergies between energy storage systems and the engines themselves will be relevant for operations in built-up areas.
The same energy storage principle avoids cold system start-ups meaning instant vessel readiness. The module is able to react instantly to fast and wide changes in power demand with the advantage of automatic power back-up via built-in redundancy of the power sources. The basic principle of operation with Wärtsilä's hybrid propulsion is broadly similar in principle to others: at low loads power is supplied exclusively by the energy storage system until it reaches a pre-set minimum state of charge whereby conventional machinery automatically activates to power the ship and recharge the energy storage system. A range of combinations are available depending on the basics of supply and demand. Load fluctuations are absorbed by the energy storage systems (peak-shaving) allowing more stable and efficient operation of the main engines.
As mentioned previously, owners and operators will be looking at the bottom line of such investment weighed against the wins of improved efficiencies and more environmentally-friendly operations and Wärtsilä are not alone in promoting such technologies. Its approach of employing a modular system allows for adjustment and project-tailored fine tuning during the tug's lifetime and from a single supplier.
By Peter Barker