Multi-purpose workboats feature regularly in Tugs & Towing but this latest delivery from Zwijndrecht-based Shipyard Kooiman BV for HvS Dredging Support BV of Harlingen takes the humble tug/workboat to a new level.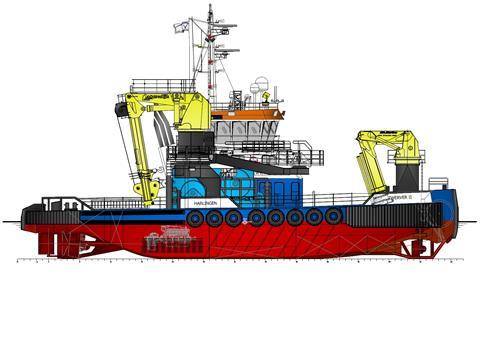 'Walk-to-work' vessels are increasing in numbers lately and involve personnel transferring to structures such as oil and gas platforms and offshore wind turbines via a motion-compensated gangway while the vessel maintains position alongside on DP. The inclusion of such a gangway on Zwerver II therefore opens up new levels of possibilities for the small tug/workboat market. HvS is a regular client for Kooiman including involvement in two previous workboats and this latest example with a difference is due to enter service as this edition is published.
Zwerver II is built to BV rules carrying the notation: 1+, Mach, Tug, Unrestricted Navigation, ALM-AUT-UMS, Dynapos AM/AT-R, Ice Class 1D. Main dimensions include: LOA 35m, breadth 15m, draught 3m and deck space 200m2. Fuel capacity is 195m3 and fresh water 58m.
Machinery consists of three Mitsubishi S12R-MPTAW main engines, total output 2,820kW. A comprehensive propulsion arrangement comprises two fixed-pitch propellers in nozzles along with a ZF WM-611 Z-drive and two ZF AT-4011 Z-drive bow thrusters. Performance figures include an impressive 65tbp (approx) and speed 11.5kn, Mitsubishi has also supplied two 6D24TC gensets and two S6R-MPTAW hydraulic power sets.
The deck equipment is perhaps the most noteworthy feature of Zwerver II. Two cranes are included: located forward is a HS Marine AKC-370 HE3 lifting 10t at 20m via a 13t winch with 80m of wire with a Lagendijk Offshore LKB 510 T3 crane aft capable of lifting 11t at 23m. This crane has two winches, a CT 20t/40t single fall/double fall model with 130m wire and an AHC 2.5t winch on a second jib (1t man riding).
The offshore access system is an Uptime LGAP 1420 passive heave-compensated gangway, mounted midships and capable of working up to 1.6m Hs. An anchor-handling and towing winch holds 1000m of 64mm and 48mm diameter wire on each drum respectively. Pull and brake capacity of each winch, again respectively are 200t/250t and 100t/200t. The four-point mooring system is handled by four tugger winches with comprehensive towing pin/shark jaws arrangements included forward and aft. Bow and stern rollers, two 15m spud poles, a 2m x 2m moonpool and hydraulically operated bow door complete the deck equipment.
Also worthy of note are the accommodation arrangements which include nine heated and air conditioned cabins for 17 persons, all with VSAT and SatTV. The complement can be increased to 21 persons with inclusion of two temporary living quarters containers, positioned behind the deckhouse. These connect to Zwerver II's own power supplies and are to the same standard as that on the vessel itself.
By Peter Barker