Island ferry operator AG Ems – the first German shipowner to convert an existing passenger ship to LNG dual fuel propulsion - has now carried out another unusual and complex conversion by replacing the old generation waterjets on its high speed catamaran Nordlicht.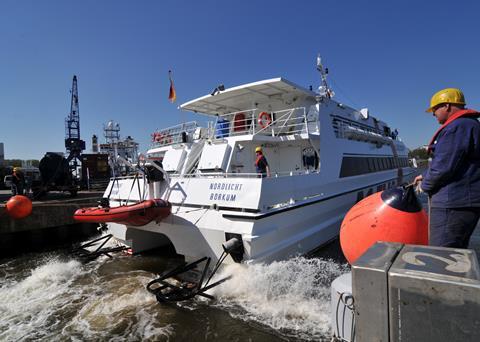 The 38.87m loa and 9.44m wide cat, of 435gt and built in Norway in 1989, has served as a fast commuter link between the port of Emden and the German East Frisian island of Borkum for some 27 years, carrying up to 272 passengers each trip. It has, to date, logged about 45,000 operational hours and a million sea miles.
The main engines on Nordlicht - two 16-cylinder four-stroke MTU Diesels Type 4000 each providing 2040 kW – remain. But the ship's two original 63-S62/6 KaMeWa water jets - also known as the S1 - have now been replaced by fourth generation mixed flowType S63-4 KaMeWa units from Rolls Royce. Work and units cost about half a million Euros.
AG Ems said the 13-day replacement at the specialist Fassmer shipyard in north Germany was a "logistical masterpiece". "The yard and the engine manufacturers were right on the button" declared AG Ems Technical Inspector Claus Hirsch, when Nordlicht re-entered service on schedule after the job.Hirsch said Nordlicht "is in excellent condition but technology has moved on and after about a million sea miles of service, it is time to renew the jets".
In order to do that, a 1.5m square access hatch had to be cut out of the ship's aluminium hull. The old jets were removed by crane prior to the installation of the new steel waterjets, each weighing 1.5 tons.The owner acknowledged that aligning the units had been a challenge because they had been calibrated to within 0.05 degrees. "We were really impressed" said Hirsch.
Nordlicht captainTjark Beckmann said the new units had exceeded all expectations. "There is hardly any vibration and manoeuvrability has also been improved", he said.
Other advantages were that there was no need for associated external hydraulics with the new waterjets and, according to Rolls Royce, that they were some 15% lighter than the old models as well as easier to maintain.
They shift about 5000 litres of water a second, requiring 1,775kW to do this and to accelerate the fast cat to 35 knots.
Rolls Royce claims the new waterjets are up to 23% more efficient that previous models – thus also making a significant contribution to environmental protection. AG Ems' Hirsch was quoted as saying "current experience confirms this".
AG Ems operates a fleet of ten big and small vessels and is no stranger to complex conversion work. In 2015 it completed the conversion of the 94m passenger ship Ostfriesland to LNG DF propulsion.
By Tom Todd