An innovative wave energy technology to supply people worldwide with clean and reliable energy has won this year's Cleantech Open (CTO) Global Ideas Challenge Award.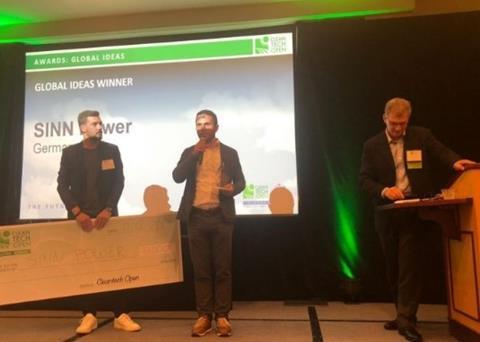 SINN Power shared the potential of its wave energy converter (WEC) in front of an expert audience at the Los Angeles, California-based CTO Global Forum, a three-day event aimed at paving the way towards a sustainable future, where startups get a unique opportunity to meet potential partners and investors of the cleantech industry.
The company said it is grateful for new insights into the US cleantech startup scene. Johannes Stuck, head of business development, and Philipp Sinn, CEO, jointly stated: "It is very impressive to experience first-hand how this network offers startups and their innovations great support from the industry to pave the way towards a sustainable future."
SINN Power's WEC consists of a series of individual modules combined and connected in one rigid structure, allowing it to float on the ocean's surface like an anchored ship. Through the waves' up-and-down movements, the attached floating modules turn a lifting rod attached to a generator that produces electricity.
The CTO Global Forum consists of a unique pitch workshop, several investor rounds with America's best-known cleantech investors and two competitions, the CTO National Challenge and the CTO Global Ideas Challenge to distinguish innovations, both nationally and globally.
By Rebecca Jeffrey