Norwegian wave energy developer Waves4Power has announced its plans for the future development of its pioneering wave buoy writes Dag Pike.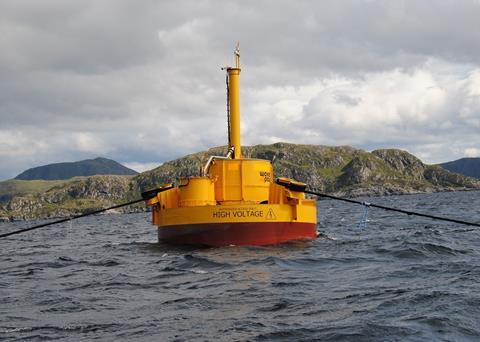 Designed to extract the energy from waves at exposed and remote sites, a prototype has been on trial at the exposed Runde site off the coast of Norway, and an improved version of their Waves EL 3.1 wave buoy has been renovated and will be installed at the grid connected site. Meanwhile development work on their Wave EL 4.0 Next Generation will be continued used the experience gained from the 3.1 unit to provide input for the final design. Once the design is finalised this upgraded design will be installed at Runde and then work of a series production buoy design will start.
This logical development programme will lead to this innovative wave buoy being offered to clients in a package comprising four or five buoys for power generation. Rather than looking at the buoy system for power generation that is fed into the main national grid system, Waves4Power is looking at applying this wave generating system for use in remote location where power requirements are currently met with a diesel generator on site. The Waves4Power system could provide electrical power at remote fish farms or an offshore oil production facility that wants a 'green' source of power.
With more than 12000 hours of survival testing and 4000 hours of functional testing, Waves4 Power has confidence in the future of their system which uses a buoy with a long vertical tube with a water piston inside. As the piston moves up and down under wave action the movement of the piston is connected to a power conversion system that generates the electrical power. The power comes from the water in the tube and the passing waves being out of phase allowing energy to be captured from this aspect. The current buoy design is 3 metres in diameter with the system designed for an operational life of 25 years and being capable of surviving a 25 metre wave.
Waves4Power is currently in discussions with Isles of Scilly to develop a wave project park. This would be part of the £3million Smart Islands project being developed by the Cornwall and Isles of Scilly Enterprise Partnership.