A well-known UK wet construction specialist has been looking at serious ways in which it can reduce the carbon footprint of its plant and machinery.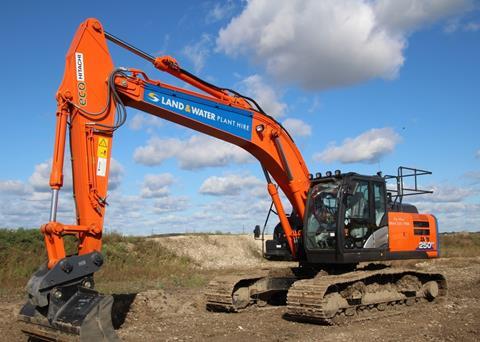 As well as laying claim to being the first company in the UK to adopt both long reach excavators and amphibious vehicles for use in the construction and civil engineering industries and as one of the earliest adopters of biodegradable hydraulic oil, it is perhaps not surprising to learn that forward thinking Land & Water is trialling Crown Oil's revolutionary new alternative to diesel.
Crown HVO fuel is up to 90% net carbon neutral giving it the potential to significantly reduce the carbon output of construction projects.
HARDWORKING MACHINERY
Land & Water has been testing Crown Oil's HVO fuel at its habitat creation scheme in Rainham, Essex. Not only has the fuel been performing well in some of Land & Water's most hardworking machinery it is enabling the company to create a new habitat in an environmentally conscious way.
Crown HVO fuel offers greenhouse gas emissions up to 90% lower than mineral diesel. Manufactured from 100% renewable raw materials, it also offers instant fill and cross compatibility with existing fuels meaning that there is no need to modify machinery for use.
Crown HVO also says that it has a longer shelf life than existing fuel, risks no likelihood of contamination through diesel bug and has a lower threshold to waxing in cold weather than current diesel fuels.
DEMONSTRATION DAY
These benefits were on display on Land & Water's Fuel Testing Open Day on Thursday 12 March. The event was held at Land & Water's site in Rainham and provided the opportunity for attendees to see machinery in action using the fuel. The event included some of Land & Water's innovative long reach excavators as well as road haulage partner supplier Tomato Plant's new HGV Tractor unit to help demonstrate that Land & Water's plant can not only run on Crown HVO fuel but that it can be delivered by HGVs running on it too. What's more, both Land & Water and Crown Oil were on hand to answer questions following the demonstrations and share their collective knowledge about reducing carbon emissions on construction and civil engineering projects.
James Maclean, CEO at Land & Water commented, "As a planet, a nation and as individuals we are at a pivotal moment in history. If we are to safeguard our world for future generations we need change. We need to find innovative ways to cut our carbon emissions. As a company that operates a vast fleet of machinery we were extremely excited by Crown Oil's HVO fuel so decided to put it through its paces on one of our busiest sites. We believe that the results speak for themselves. HVO fuel can be put directly into the machinery, with no need for adaptions and it has performed faultlessly. As a result we will now be offering all our clients the option of using HVO fuel on their projects."
"It is our belief that Crown HVO could play a significant role in the UK Government's goal of becoming net zero in terms of carbon emissions by 2050 and we are extremely pleased to have worked with Crown Oil throughout this testing project."
By Jake Frith