Dutch company Whaly has been producing small boats made from moulded polyethylene for several years now. These have been hardwearing tough boats designed primarily for the leisure market where they are appealing as a rugged alternative to more conventional craft.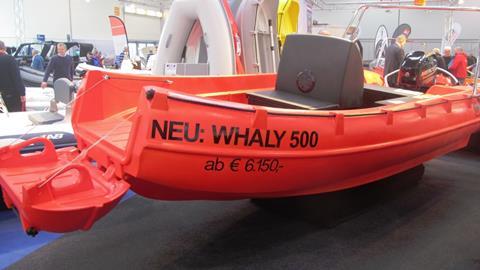 Now the company has turned its focus onto the professional market with a larger design that could meet many workboat requirements.
The Whaly 500 Professional has been designed with in a RIB-like format with both the hull and the 'tube' fully integrated and constructed at the same time by rotationally moulding the polyethylene in suitable moulds. The material is extremely hard wearing and can stand up to arduous use in a variety of applications. For this 'Professional' design the craft has a landing craft style with a hinged ramp at the bow that can be lowered manually for beach access or for easily loading heavy equipment.
This hull is 4.99 metres long with a beam of 2.10 metres and the craft has a low profile of just 1.01 metres which allows it to be easily stowed on board larger craft when used as a tender. The weight without the motor is 350 kg.
The 'Professional' is designed to be powered by a small outboard and the recommended power is 50hp. Tiller steering and control are used with the driver sitting on the aft thwart. Speeds are modest but when lightly loaded the craft will come up onto the plane and achieve speeds of around 20 knots. The hull has a shallow vee with side skegs and this makes for easy planing.
The side 'tubes' are equipped with a grab rope suspended through moulded eyebolts which can be used to help man-handle the boat manually and which would also be effective when the 'Professional' is used in a rescue boat role. When developing a boat to a fixed design like this the designers have to be conscious of the various roles that the boat has to be used for and to try and build in suitable fittings. With the 'Professional' there is the possibility of fitting additional thwarts but basically this is a simple open boat for carrying cargoes or passengers or for monitoring and servicing floating equipment.
This new design is finding favour as a workboat for fish farm operations and for use by marine contractors. It is also suitable as a rescue boat for use attending marine activities and sailing races. The concept has been developed as a rugged, relatively cheap all-purpose workboat.
By Dag Pike