Palfinger recently announced its latest acquisition - Herkules Harding Holding AS - but according to Palfinger CEO Herbert Ortner, it won't be the last.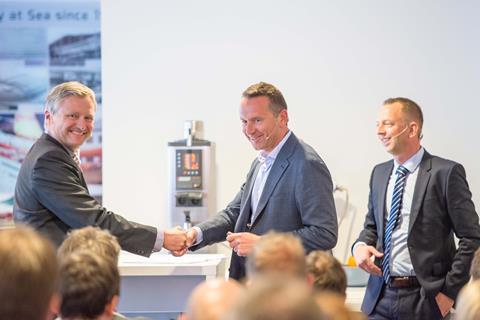 The recent sale broadened Palfinger Marine's portfolio as Harding is a well-established supplier of lifeboats and associated equipment; having Harding under its belt, the group also gains important footholds in the offshore oil and gas, cruise, navy and coastguard segments. More, it will benefit from a string of global service locations. Servicing is a good proportion of Harding's offering, generating roughly half of its revenue (most recently recorded at EUR140m).
However, all this takes place against the backdrop of a challenging economic situation: Mr Ortner underlined that Palfinger's strategic goal of supplying "the complete package" of safety and marine deck equipment is completely consistent with survival. "The market is extremely fragmented," he said, and pointed out many equipment suppliers "are segment focused which means that they are very vulnerable to ups and downs". In other words, in these tough times, a wider base lends itself to greater stability.
Styrk Bekkenes of Harding added: "To be a small supplier in this environment is tough, but to be bigger makes it easier."
He said the benefits would also spread through the aftermarket: "We can come onboard with just one team to do the complete service so that reduces costs for the customer... and we can give a fixed price for the longer term."
He went on to say: "With a broader range of equipment onboard, crew training will be easier... [and] it may be that product and safety training can be brought together."
This latest acquisition is the largest in the history of the Palfinger Group. As a result of the takeover, Palfinger's marine side will almost double its business volume and is expected to generate revenue of over EUR300m, substantially more than 20% of the Group's total revenue.
There will be more announcements, that is certain. Despite the recent failure of a recent bid for TTS Mr Ortner concluded "it is a good time to carry out acquisitions" and added: "We are in talks with other potential partners."
By Stevie Knight