A new partnership aims to accelerate the implementation of wind-assisted propulsion for the global shipping industry.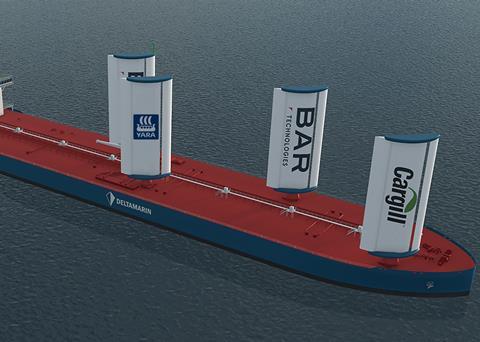 Marine engineering consultancy BAR Technologies (BARTech) has entered into a partnership agreement with Yara Marine Technologies (Yara) to offer the BARTech WindWings by Yara Marine Technologies (WindWings).
John Cooper, chief executive officer at BAR Technologies, said: "Working with Yara to deliver the first installation of WindWings for Cargill sets the benchmark as a true industry first, and we believe that the combination of expertise afforded by all parties marks out the technology for long-term commercial success."
Widening availability
Yara Marine will offer WindWings in its portfolio to ship owners globally and manage the value chain of procurement, construction, installation, service and training for the WindWings in global locations, ensuring ready availability of the technology to meet the needs of the shipping industry worldwide. This will include WindWings for the first commercial retrofit to a Cargill vessel, expected for delivery in 2022.
To tackle the challenge of shipping's need to reduce carbon emissions whilst adhering to tight arrival schedules, WindWings offers up to a 30% reduction in fuel consumption for bulk carriers, tankers and other large shipping vessels, by combining wind propulsion with route optimisation. The product features large solid wing sails that measure up to 45 meters in height, fitted to the deck of bulk cargo ships to harness the power of the wind. This original size will be one of three specifications to be brought to market.
By Rebecca Jeffrey